So, you're a small business owner.
You're continually grinding day in and day out trying to grow your business, while learning & adapting each day.
Maybe your goal is to keep the company the same size & generate stable revenue, or perhaps you're trying to become the next Jeff Bezos.
The point here is that businesses come in all shapes and sizes.
Some sell niche products & some sell common goods.
Some sell physical products while others provide a service.
And since businesses come in all shapes and sizes, so does insurance, and it's difficult to give a straightforward answer to the question, "how much does small business insurance cost?"
Why?
Because it depends.
In short, some industries are at higher risk than others, and some companies have more revenue than others.
And there are a plethora of other variables.
If that statement doesn't make any sense, don't worry.
Here's an example:
A roof installation company will have higher small business liability insurance costs than an ice cream store.
Let's look at it from the perspective of an insurance company:
When looking at the likelihood of causing third-party damage, what can go wrong for a roofer?
A roofer could
Set the roof & entire building on fire while installing the shingles
Cause structural damage to the roof during the course of construction
Conduct faulty workmanship, resulting in severe water leakage
An ice cream parlor could
Accidentally have a stone in the ice cream and chip someone's tooth
Be responsible for a customer slip & fall due to slippery floors
Serve bad ice cream, resulting in someone getting sick
The average roofer claim can be upwards of $50,000!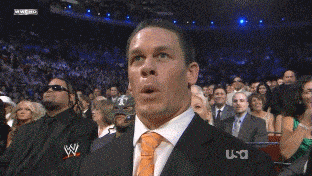 While your average small ice cream parlor liability claim is about $5,000.
This short comparison shows that while both businesses can cause damage to other people or things, these accidents vary significantly in dollar amounts.
In other words, the roofer is more likely to cause a significant small business liability claim than the ice cream parlor, and the price for their insurance policy will reflect this reality.
This difference is why the average ice cream parlor pays less for its small business insurance than a roofing company.
At KBD Insurance, we have clients who pay as little as $400/year and as high as $80,000/year, and now you know why.
Small business insurance Montreal – How we calculate your premium
In a nutshell, there are four main factors used to calculate your small business insurance quote: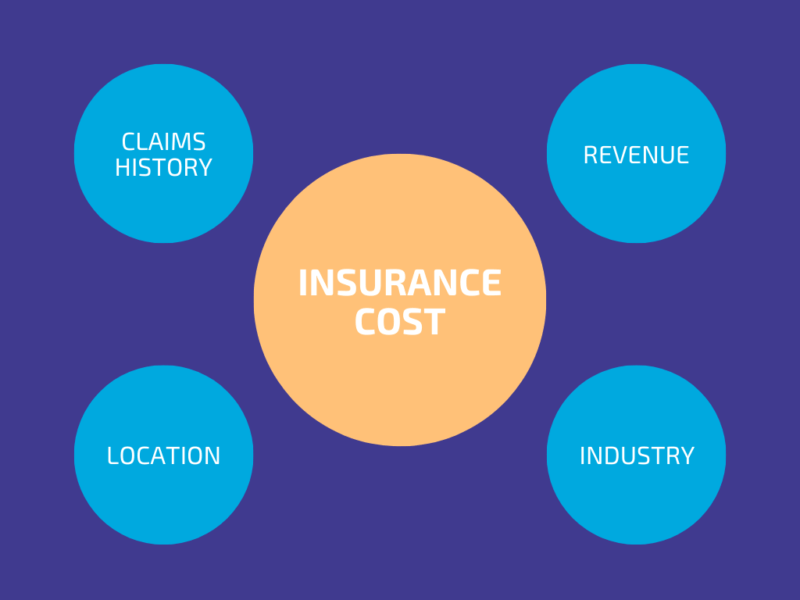 Annual revenue

The more you sell, and the more stuff you make, the higher your insurance premium will be due to the increased likelihood of causing third-party damage. It's all in the numbers.

Industry: The type of product or service you sell

Some industries are higher risk than others, such as the example above, and this will be reflected in the premium you pay.

Office location 

Areas or neighborhoods that have higher crime rates or extreme weather can affect your small business insurance cost because technically, you're at a higher risk of theft or incurring damage to your contents.

Claims history/experience 

The longer your business goes without claims, the cheaper your insurance rates will be because you are proven to be low risk.
What does small business insurance cover?
Commercial Liability insurance
This covers you for any bodily injury or property damage that you, your employees, or your product could cause to a third party, such as your customers or another business.
Your landlord will often require liability if you are renting your space since they want to make sure that you are insured in case you cause damage to their building.
General Liability limits generally range from $1,000,000 to $5,000,000, but a liability-only policy can cost as little as $500 per year.
Some factors that will determine your small business liability insurance costs: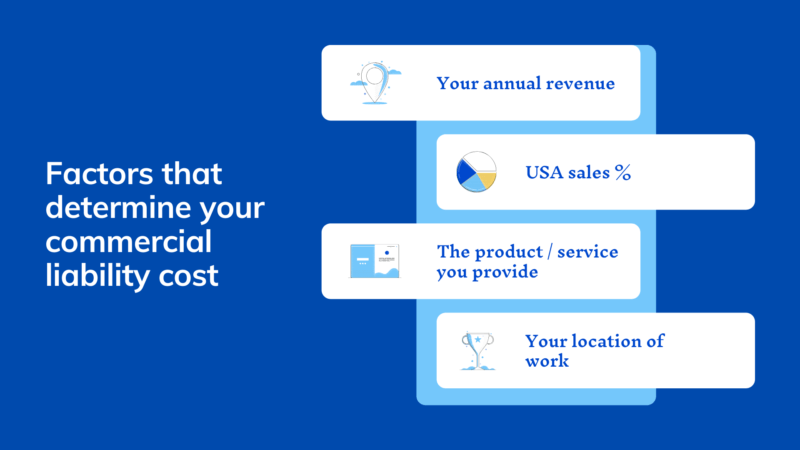 Includes insurance for buildings, equipment, or inventory that your business owns.
The perils insured can include fire, theft, vandalism, water damage & earthquakes.
The minimum cost for your business contents (products, equipment, stock, etc.) is usually around $75 per year.
This $75 insurance cost will generally cover about $20,000 worth of business contents.
Factors that may increase the rate you pay for your contents:
If your contents are easily damaged (ex: glass, textiles)
If your contents are targeted for theft (ex: sporting goods, small electronics)
If your neighbors are considered high-risk (ex: bars, manufacturers)
If your building catches fire easily (concrete vs. wood)
Business Interruption
This covers your lost profits, fixed costs, and administrative salaries during the period your business is forced to shut down due to a covered claim.
Again, premiums for this protection can be as low as $75 per year, and increase in cost as you increase the amount of coverage.
The same factors that influence the property coverage influence the cost of business interruption insurance, since the two are usually claimed together.
Provides coverage against the effects of an unauthorized breach of your systems by a third party.
In other words, it's insurance for when you get hacked.
To summarize, the right cyber insurance policy will cover your business for:
Breach notification costs (advise your clients of the cyber attack by registered mail)
The cost to re-create lost data
The cost to repair your IT systems
PR costs to repair your brand image
A cyber insurance policy for small business costs between $800 – $1,200 per year.
How can I lower my small business insurance cost?
Here are some pointers to help keep your small business insurance premiums down as your company grows: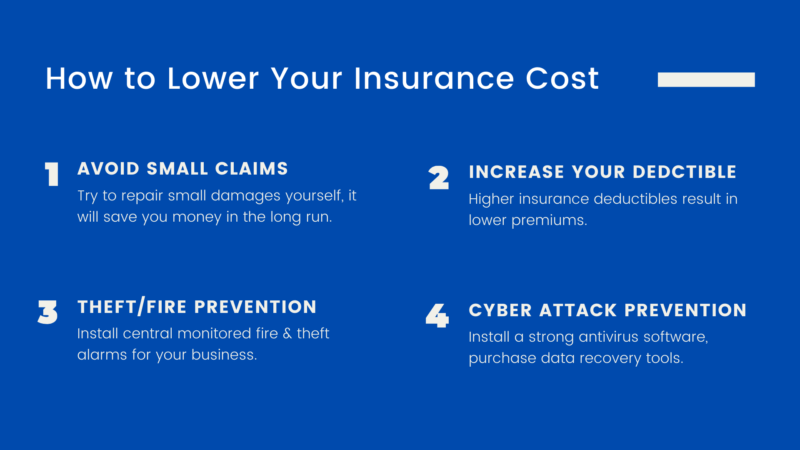 Avoid claiming for small damage
Try to repair the little things yourself, because each time you claim, your insurance premium will increase.
Frequent claims unfortunately result in paying more for your insurance over time.
In many cases, the increase in your premium will be more than the actual claims themselves!
This is why it's best to claim for significant damages; ideally, we suggest against claiming anything under $2,500.
All small business insurance companies offer discounts to those who are claim-free.
Raise your deductible
By increasing your deductible, you are decreasing the likelihood of making a claim, since there is a more substantial amount of damage that needs to occur before making a claim is possible.
Insurers will offer discounts each time you raise your deductible.
For example, raising your deductible from $1,000 to $2,500 would give you a 5% annual discount (with most insurance companies).
Install alarm & sprinkler systems
Small business insurance companies offer credits to organizations who use central monitored alarm & sprinkler systems since they can help mitigate damage.
While it may not be feasible for you to install a sprinkler system if you don't own your building, pay attention to this when choosing a new office locale.
Install antivirus software & create a "disaster plan"
Be proactive and develop a disaster plan that prepares your company for cyber-attacks or data breaches.
Creating a detailed list of what to do in the event of a cyber breach can literally save your business.
Here's a list of companies we suggest checking out to make sure you're covered when it comes to cyber threats:
If your enterprise falls victim to a ransomware attack (your computers are encrypted, which means they're locked), Datto is a great tool to recover your lost data.
Next generation cyber security & threat intelligence. Great product for the cost.
The company is an industry leader in firewall technology, as well as cloud computing. A firewall essentially "locks the door" to your network.
The Montreal based email security company that provide advanced email spam protection for businesses.
Does my home insurance cover my small business?
If you're a small business owner operating your company out of your house, you may be eligible for "home business coverage" through your residential home insurance provider.
This is an add-on to your home insurance policy, and it covers your business' contents and general commercial liability.
The additional premium for these protections can be as low as $150 per year.
Industries eligible for home-based business insurance include:
Professional offices (lawyers, accountants)
Animal groomers
Hairdressers
Estheticians
Music teachers
Daycares
Some small fabrication & distribution businesses
If you are thinking about starting a business from home, remember to advise your insurance provider!
Conclusion
With the internet at your fingertips, and business insurance floating around in your brain, reach out to get your small business insurance quote.
KBD is a broker specializing in small business insurance, located in Montreal.
If you would like to get a detailed small business insurance quote for your company, call us today at 514-636-0002