Contrary to popular belief, landlords are much more than rent collectors.
Successful landlords wear many hats, deal with an array of challenges, and are super informed about rental & landlord laws in Quebec.
While the profession comes with its stresses, it can be very rewarding, generate a passive income, and give you the luxury of being your own boss.
A professional landlord also knows a thing or two when it comes to landlord insurance policies, which will be the topic of today's blog.
As a commercial insurance broker with several years of experience, I've come across all types of situations relating to claims, finding the best price, risk management tips, and how to keep landlord insurance costs down.
KBD insures dozens of Montreal landlords, and I've personally had the pleasure of learning from some of the top property owners in Quebec; some of our clients have over 400 doors.
The goal today is to pass this knowledge to you.
We'll be covering tips you won't find anywhere else, like what percentage of betterments you can write off and how to effectively ensure your tenants carry their own renters' insurance.
Though some of these tips are good for all types of rentals, today's blog is written for commercial & residential landlords who rent their units on a long-term basis (1-year lease agreements and over).
If you're a landlord looking for information on short-term rental insurance, you'll need to check out our blog on business insurance for Airbnb Hosts.
Let's dive in!
Landlord Insurance Coverage on a Rental Property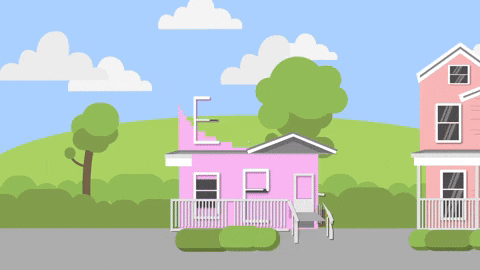 Surprisingly, there's no law that forces landlords to carry property insurance.
If you're a cash buyer and the notary insists on proof of insurance to close the deal, you should probably find another notary because they don't know what they're talking about.
On the flip side, if you're not a cash buyer and you have a mortgage, the bank will require you to have landlord insurance for your building.
Rental property insurance works a lot like home insurance. In fact, it's almost identical.
The one main difference is that your rental property requires "rental income protection" which covers your lost revenue in the event of a claim.
I.e. if your building suffers a fire, it's unliveable and therefore the tenants will stop paying rent.
Rental income insurance replaces the tenant rent payments in this situation.
The main coverages required for your rental property protect you from the following damages:
Fire / lightning
Wind / hail
Water
Vandalism
Theft
Explosion
Smoke
Important Landlord Tips That Will Save You Money & Headaches
TIP #1 – If you own a commercial or residential rental property, make tenant insurance a lease requirement.
This is by far the most important landlord tip I can offer that is guaranteed to save you money.
Also, follow up with the tenants to ensure that they truly did purchase a renter's liability insurance policy.
Having tenant insurance as a requirement in the lease is not enough; you'll need to ask each tenant one by one for proof of insurance.
I know this sounds like a hassle, but here's an example demonstrating why you should do it:
You own a building worth 1 million dollars and your deductible is $10,000.
Your tenant causes a flood, resulting in $9,000 worth of damage to your building.
If they carry their own tenant insurance, you have nothing to worry about; their policy will cover the damages done to your rental property.
If they don't have their own tenant insurance, you (the landlord) will recover the money from them personally, right?
This is a fair assumption, but what if the tenant doesn't have any money?
What about the cost you'll incur to hire your lawyer?
If either of these two scenarios applies, you'll be the one paying for the $9,000.
In other words, you'll be penalized for your tenant's mistake.
The point I am trying to illustrate is that just because tenant insurance is a requirement in the lease does not mean everybody abides by the rules of the lease agreement.
Staying on top of requirements like this will save your landlord business money as you won't pay for the mistakes of others.
TIP #2- Keep up to date with renovations
Keeping your building up to date and fixing maintenance issues as soon as possible is a great way to save money on your insurance.
Proper upkeep prevents insurance claims and adds value to your home.
TIP #3 – Write off a portion of betterments as an expense
Let me put it to you this way, there is no "official" answer to the question "what's the percentage of betterments I can write off as an expense?"
In reality, you're not supposed to expense any of your betterments, but we all like to save a buck here and there.
Here's what I can tell you from experience:
A client I went to visit for his landlord insurance renewal a few months back told me about all the renovations and betterments he had made to his buildings.
He was audited by the government shortly after and was able to get away with allocating 50% of his betterments as expenses.
The other 50% of the betterments were capital expenditures.
Now, I'm not advising you to follow this principle, I'm simply demonstrating what I've seen the government let go with regards to landlord accounting.
TIP # 4 – Consider incorporating your rental property
Montreal Financial does a great job explaining the pros and cons of incorporating your rental property.
For example, they mention "if you plan to build a portfolio of properties then having a corporation can be significantly more beneficial as it provides limited liability and the admin costs are spread over various properties."
In my experience as a landlord insurance broker, most rental properties KBD insures are incorporated.
Does My Homeowners Insurance Cover My Rental Property?
To keep the answer to this question simple, no, your homeowner's insurance does not cover your rental property.
At KBD Insurance, it's possible to have your home and your rental property on the same policy, but they're still treated as two separate locations.
How Much Does Landlord Insurance Cost?
Like all business insurance policies, your insurance cost depends on many factors!
Such as:
Are you a commercial or a residential landlord?
If you're a commercial landlord, who are your tenants?
Are any of them restaurants or bars?
What's your claim history?
What is the construction of your building? What year was it built in?
Without going into too much detail, the landlord insurance cost for a building worth $1,000,000 could be anywhere between $1,300 and $5,000 per year.
A Final Word
Today's blog was written for landlords who rent their properties on a long-term basis (any lease that is 1 year or more).
If you're a property owner looking for short-term rental insurance information, check out this blog here.
We discussed how important it is for landlords to make sure tenants carry their own liability insurance, and how putting tenant insurance as a requirement in the lease is often not enough.
You'll need to manually ask for proof of insurance on a yearly basis from your renters.
We touched on how your homeowner's insurance rental insurance does not cover your rental property, which means you need to buy a "stand-alone" policy for your rental property.
Lastly, we looked at the cost of landlord insurance.
Depending on where your building is located, who the tenants are and your claims history are all factors that help determine your annual insurance cost.
If you're looking for landlord insurance quotes, give us a call at 514-636-0002 or quote your building today by clicking on this link!