Bob Barker. Ellen DeGeneres. David Letterman. Oprah. And now you?
Oh wait, you're not that type of host.
You're an Airbnb host.
Or a VRBO or Sonder host.
And you need Airbnb insurance.
Renting out your place while you're away or buying property for the purpose of renting is a great way to cover your rent or mortgage, to cover your own travel costs, or simply to make a few extra bucks.
But the sharing economy is still relatively new, and insurance companies are still figuring out how to underwrite short-term rentals.
The good news is, if you have home or building insurance already, your short-term rental insurance policy will be similar.
Here are the steps:
Get a home or building insurance policy
Inform your home or business insurance company you'll be renting short-term
Yeah, it's that simple.
Still have questions?
Let's spin the wheel — wait, no — let's break down the Airbnb insurance coverage in detail.
Here's what we'll cover in today's blog:
Insurance, Airbnb & the gig economy
Before we go into detail about insurance for Airbnb rentals, let's define the term "Airbnb host."
The "host" is the property owner who rents out their space to "guests" on a "short-term" basis.
In insurance, a "short-term rental" is any duration under 1 year.
Airbnb is the technology platform that acts as the intermediary between the "hosts" (owners) who are looking to rent out their homes to guests (renters).
In other words, Airbnb connects property owners with renters who are looking for a place to stay.
Before you list your property on any sharing economy website like Airbnb, there are two things that you will need to verify:
Check if you need a permit from the city

If you're renting out your space "illegally" without a permit, insurance companies may refuse to pay for a claim related to an Airbnb stay

Does your condo / apartment building allow for short-term rentals?

You could face fines from your association and be held responsible for any damages a guest may cause.
Once you have verified those two points, you're ready to list your property online, and making sure you're properly insured is the next step.
How to get Airbnb host insurance
As the host, you'll need to have your own Airbnb insurance for guests (also referred to as short-term rental insurance).
Not every insurance company offers coverage for "short-term rentals", so to make things simple, here are 4 companies that do offer insurance for Airbnb hosts in Quebec:
Intact Insurance
Lloyd's
Desjardins
Sonnet
When you call to add your new coverage, your broker will ask the same questions as they would for a home insurance policy — and they'll add a surcharge for the increased risk that comes with renting your home short-term.
Expect to pay an additional 25-30% on your existing price, though of course every company is different.
As a Quebec insurance broker, KBD can quote your rental property with Intact & Lloyd's to see which price is most competitive.
Desjardins and Sonnet are both "direct" insurance companies, so to receive a quote from them you will need to call or visit their website directly.
All you need to mention is that you rent your home on a short-term basis, they'll take care of the rest.
What Exactly Will My Short-Term Rental Insurance Cover?
Building insurance is a major component when using short-term rental services, and it will protect all parties involved if something goes wrong, such as a fire or an injured guest.
Keep in mind that there are three parties involved in every stay: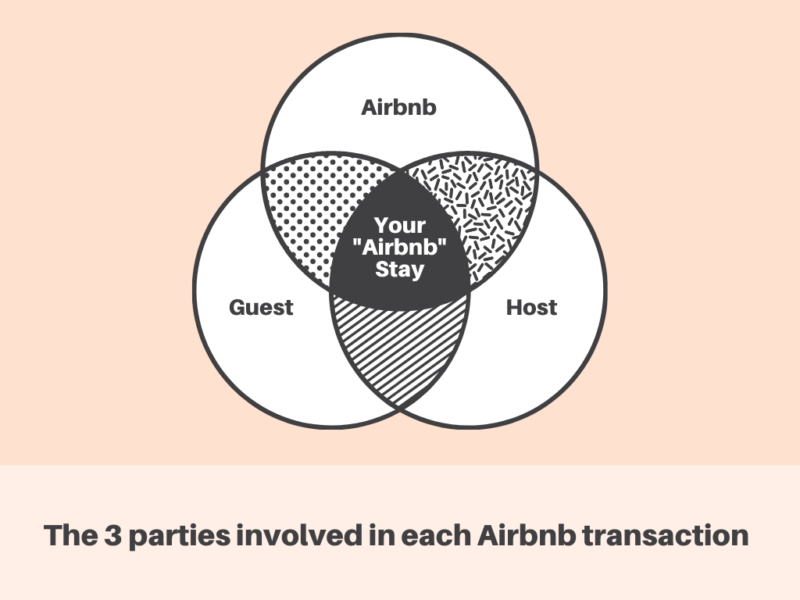 the guest
the host
the platform or service provider (Airbnb)
Because there are more than 2 parties, it can be difficult to conclude where the buck stops in the event of an accident.
In other words, it's hard for insurance companies to determine who is at fault in the event of a liability or property claim during an Airbnb stay.
This is why each party should have their own individual insurance policy.
While people tend to over complicate short-term rental coverage, the truth is it's remarkably similar to a typical home insurance policy.
We'll refresh your memory — here are the four perils insured by your regular policy and your short-term rental insurance policy to cover your building and your contents:
Fire
Sewer backup and flood
Hail & wind
Liability (if a guest injures themselves)
Let's say you own a building of six units and rent each one out separately for short-term use.
A company like Intact will give you a standard building insurance policy with the above coverages.
If you know your stuff, you probably noticed something missing from that list: vandalism & theft.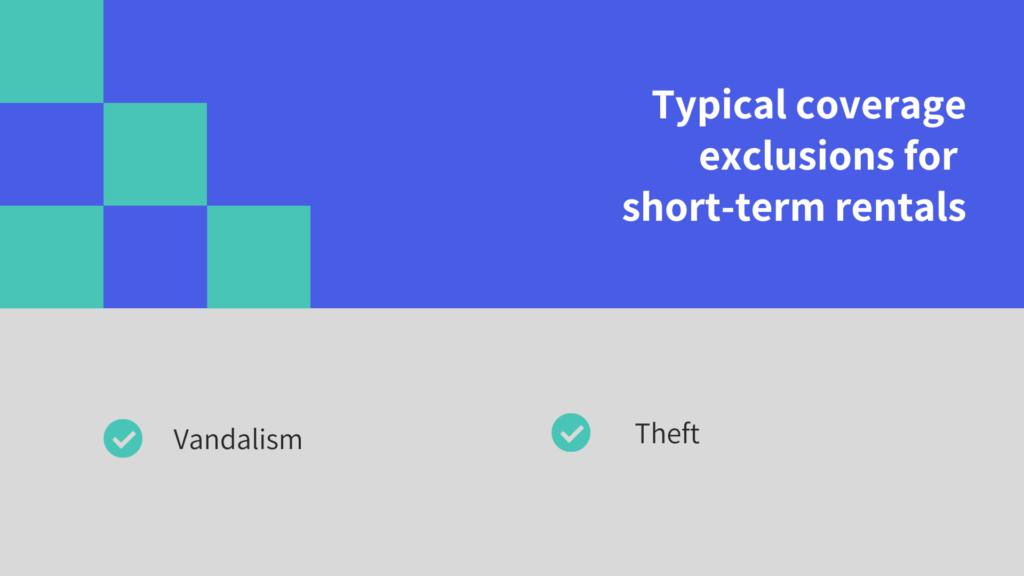 Those two perils are often (but not always) excluded for a short-term rental property — and we'll explain why in the next section.
Who Pays for Property Damage Caused by Short-Term Renters?
Typically, the easiest and quickest way to deal with damage to your property caused by guests is by making a claim directly through your insurance provider.
But as we just learned, there's one common scenario that could leave you hung out to dry.
What if the damage was caused intentionally by your guests?
Insurance companies that provide home insurance for Airbnb rentals will usually (but not always) exclude theft and vandalism damage caused by your guests.
If that happens, you'll have to approach the rental platform, so hopefully you're using one that offers host protection.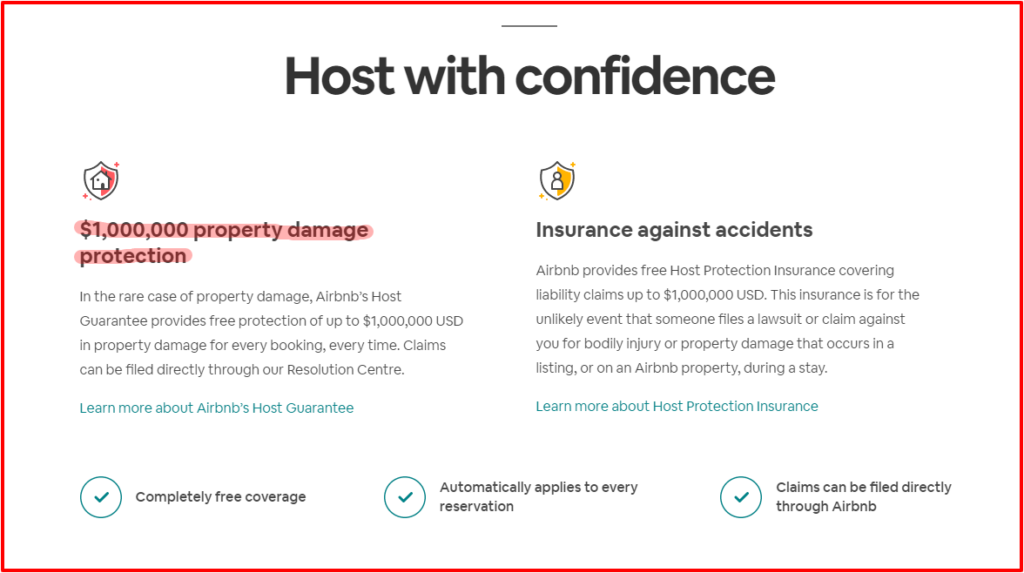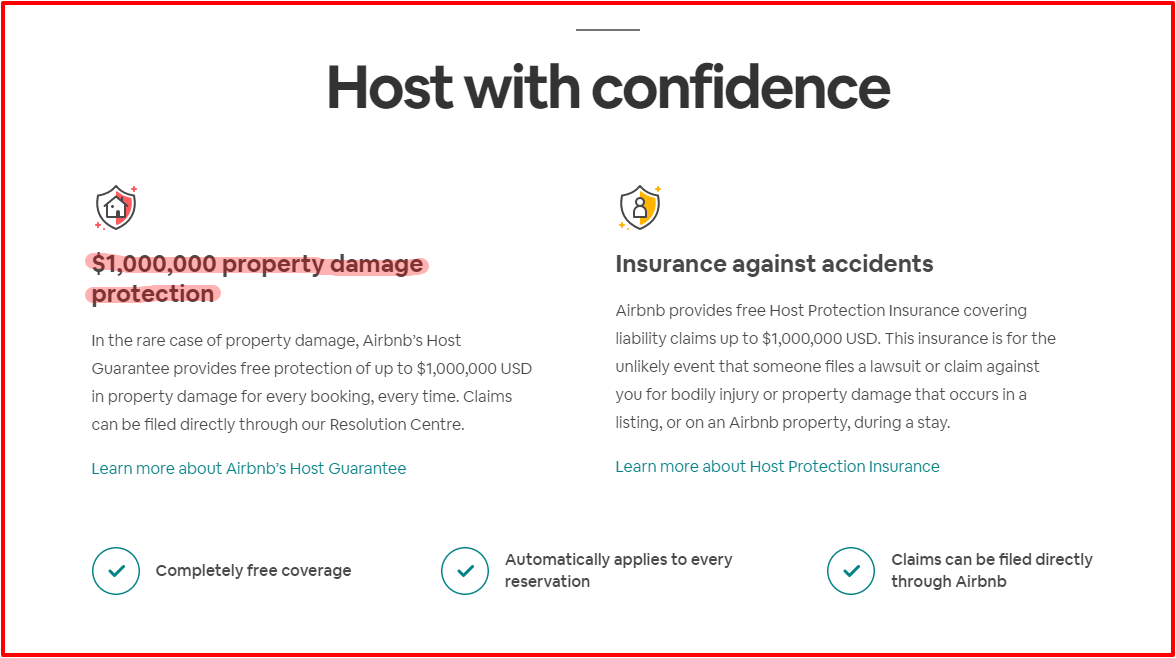 You might be thinking: 'shouldn't the guest that caused damage pay for it?'
And in theory, they should.
But unfortunately, that's rarely the case in real life.
In many cases, your guests (especially if they're younger) won't have the money to pay for the damages, so chasing them down won't get you very far.
When that happens, hiring a lawyer and going to court will prove to be a waste of your time and money.
Insurance companies have seen this before, and this is how it usually plays out in their heads: a group of 20 rambunctious youngsters visiting town for a bachelor party reach out to rent your place.
Inevitably, after a few days of partying, they leave you with some fixing up to do.
From a home insurance perspective, this isn't something we want to constantly deal with.
And that's why insurance companies are starting to exclude theft and vandalism for short-term rental policies — and why many won't insure you at all.
Given that guest vandalism & theft isn't covered, it's crucial that you background-check your renters properly so you can flag when someone's just looking for a place to party.
If you're not careful, this can become a recurring nightmare.
Your next move might be to take it up with the short-term rental platform.
Not all platforms cover the host's property, but Airbnb provides its hosts with up to $1,000,000 of property insurance.
Research a platform's host protection policy before signing up.
A smaller company might take less commission, but may not provide a host-friendly insurance policy or boast the same robust customer support network as a giant like Airbnb.
Here's the lesson:
Know the platform's protections before listing your property, have a proper short-term rental policy in place, and always vet your guests before accepting their reservation
Why property owners need business insurance for Airbnb
A short-term rental policy is basically the same as a homeowners' policy, with coverage that includes liability & property insurance, but minus the vandalism & theft perils.
Without coverage for those perils, it's important to use a platform that adds a layer of property insurance and to vet your guests carefully.
To avoid surprises, inform your insurance broker as soon as you start renting short-term.
Now back to you, the host.