Here's the scenario:
You're an Airbnb host and you rent your property to guests 6 months out of the year.
Which statement is true?
"Airbnb handles all of the insurance, I don't need my own home insurance policy."
"If a guest has an accident on my property, I will not be held responsible."
"My home insurance company does not need to know that I rent out my home through Airbnb."
"I need my own home insurance policy & the insurance company needs to be aware I rent out on Airbnb."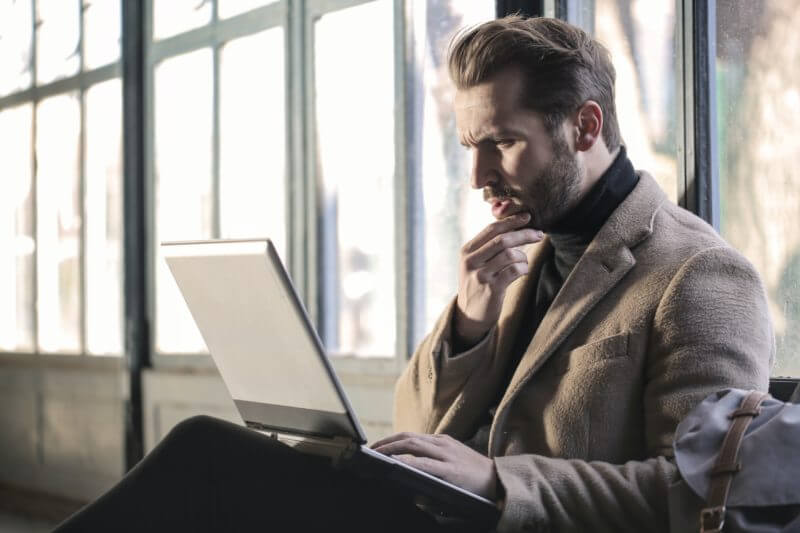 If you chose option "4" … you'd be correct!
There is a lot of confusion when it comes to insurance for Airbnb hosts.
When in reality, the concept is so simple.
In a nutshell, you need your own home insurance policy & your insurance company needs to be aware that you are renting your home to Airbnb guests.
That's it.
You can leave this page right now as that's all you really need to know.
But if you want to discover the reasons why you need your own business insurance policy as an Airbnb host, continue reading.
Insurance, Airbnb & the gig economy
Online services like Airbnb have changed the way we travel abroad and how we find lodging.
I'll bet that the last time you traveled, you stayed at someone else's home rented through Airbnb.
And if you didn't, I'm sure that you at least considered it as an option!
Renting someone else's home rather than paying for a hotel is a great way to save money and enjoy a unique experience when traveling abroad.
If you're a property owner with multiple locations, Airbnb can be a great way to generate passive income.
Before we go into detail on how insurance & Airbnb work together, what exactly is the definition of an "Airbnb host?"
The "host" is the property owner who rents out their space to "guests" on a "short-term" basis.
In insurance, a "short-term rental" is any duration under 1 year.
Airbnb is the technology platform that acts as the intermediary between the "hosts" (owners) who are looking to rent out their homes to guests (renters).
In other words, Airbnb connects property owners with renters who are looking for a place to stay.
Before you list your property on any sharing economy website like Airbnb, there are two things that you will need to verify:
You may need a permit from the city – If you are renting out your space "illegally" without a permit, insurance companies can refuse to pay for a claim related to an Airbnb stay.
Does your condo or apartment building allow for short-term rentals – If not, you could face fines from your association and be held responsible for any damages a guest may cause.
Once you have verified those two points, you're ready to list your property online, and making sure you're properly insured is the next step.
How to get Airbnb insurance
As an Airbnb host, you will need to have your own business insurance policy that covers your home or condo unit in the event of an accident.
Not every insurance company offers coverage for "short-term rentals", so to make things simple, here are 4 companies that do offer insurance for Airbnb hosts in Quebec:
Intact Insurance
Lloyd's
Desjardins
Sonnet
As a Montreal commercial insurance broker, KBD can quote your rental property with Intact & Lloyd's to see which price is most competitive.
Desjardins and Sonnet are both "direct" insurance companies, so to receive a quote from them you will need to call or visit their website directly.
All you need to mention is that you rent your home on a short-term basis, they'll take care of the rest.
Hosting your property on Airbnb requires a comprehensive insurance policy
Commercial insurance is a major component when using short-term rental services, and it will protect all parties involved if something goes wrong, such as a fire or an injured guest.
Keep in mind that there are three parties involved in every stay: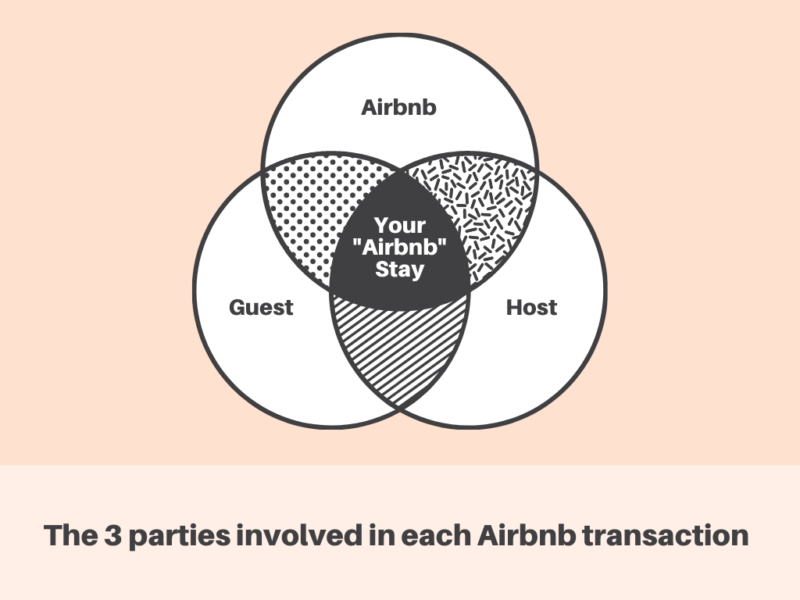 the guest
the host
the platform or service provider (Airbnb)
Because there are more than 2 parties, it's difficult to determine where the buck stops in the event of an accident.
In other words, it's hard for insurance companies to determine who is at fault in the event of a liability claim during an Airbnb stay.
This is why each party needs to have their own individual insurance policy.
These are the types of insurance you'll need as an Airbnb host: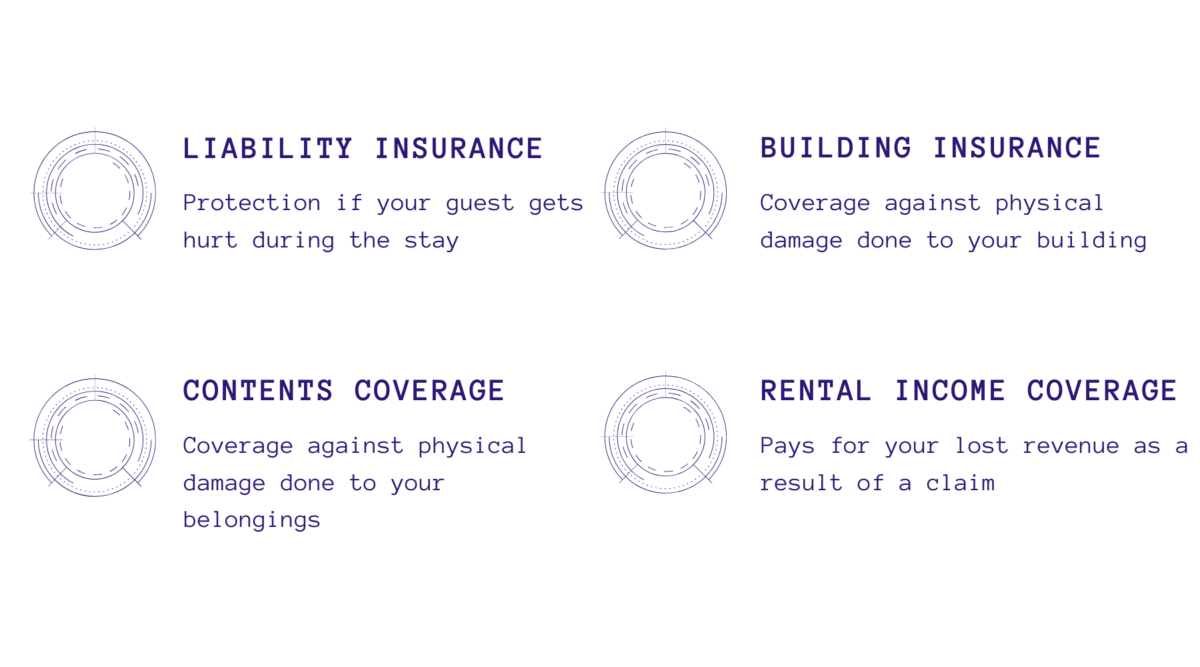 Liability insurance
Coverage in the event you or your building causes third-party property damage or bodily injury.
Simply put, this is coverage for if you're deemed responsible for causing harm to another person or physical object.
It's important to note that the Airbnb "host insurance protection" doesn't cover you for everything, which is why you need your individual commercial liability policy.
All risk building insurance
Here are some of the main perils that you should have insured for your rental property, both during the time it's rented out and when you're using it yourself.
Fire/lightning
Wind/hail
Water (roof or burst pipes)
Vandalism
Theft of your contents
Explosion
Smoke
Your contents / personal belongings
If you' re renting out your home, condo or apartment, you'll need coverage for the furniture & personal belongings in it.
This is because, if a guest causes damage to your stuff during their stay, the Airbnb insurance policy won't cover it.
You're covered for the damage your guest could cause, as well as the perils listed above.
Rental income insurance
If your home or apartment building is not liveable due to an insurance claim, you will be losing out on future rental income; it's a good idea to purchase this coverage to prevent that from happening.
This coverage will keep your income flowing while you deal with an insured claim, and it's essential if you rely on rental income.
The main point to take away from this is do not assume that gig-economy companies like Airbnb, Homeaway & Sonder cover your liability insurance exposure.
What does Airbnb's insurance cover?
Contrary to popular belief, Airbnb does not cover your property when you rent your unit through their website.
Airbnb only covers you (the host) for liability.
In layman's terms, the only time "host protection insurance" will provide coverage is if you are responsible for causing harm to a guest.
What if we switch scenarios, and your guest starts a fire to your home?
That would be covered under your insurance policy, purchased through KBD Insurance. 😉
If you're confused about why, how, who, and what's covered….
Just go back to the basics.
There are 3 parties in each Airbnb transaction & each party needs its own insurance policy.
If you follow this principle as a host, you'll be protected.
Why property owners need an Airbnb insurance policy
To conclude, I'll go back to a quote from the beginning of this article.
As an Airbnb host, you need your own individual home insurance policy & your insurance company needs to be aware that you are renting your home to Airbnb guests.
Not every insurance company covers short-term rentals, so we suggest you call us here at KBD to quote your property with Intact & Lloyd's.
You need to have your own home insurance policy because:
It can be difficult to determine who is responsible in the event of a liability claim since there are 3 parties involved in the transaction
Airbnb and other gig-economy platforms only cover the host for business liability insurance; they do not provide coverage for your personal belongings.
Here's a 4 tip summary to getting started with Airbnb host insurance.
Give us a ring today at 514-636-0002 and we'd be more than happy to offer some advice!