Montreal has become one of Canada's most important tech hubs.
With the rise of technology companies, we've also seen a rise in marketing start-ups.
KBD is a Montreal commercial insurance broker that insures dozens of advertising agencies in and around the city, mostly located in the downtown core.
Our relationship with these downtown agencies is actually one of the main reasons we decided to open a second office in the Sud-Ouest. 😉
If you're reading this right now, I'm going to assume your marketing company is in one of three scenarios:
You're moving into a new office and the landlord requires CGL (commercial general liability) insurance as part of the lease requirements.
Business is rockin' and rollin' and you figure it's finally time to buy Liability Insurance in case anything bad happens to your company.
You already have insurance, but you don't really know what you're actually covered for, so you're looking to see what's out there.
Fortunately, KBD can help you in all three scenarios 🙂
Before we go further, please also note that today's blog post is applicable to traditional and digital marketing and branding agencies.
Let's dive in!
Why Insurance For a Marketing Agency is so Important
For the sake of simplicity, we're going to break down the anatomy of a marketing company insurance policy into three parts:
Insurance for your property (your assets)
Insurance for your liability (this is the most important)
Cyber Insurance
Property insurance will cover your assets from perils like theft, fire and water.
The most common example would be if your office space suffers from a fire that destroys your laptops and furniture; the right insurance company will cover a loss like this at full value.
Liability – We all know that advertising agencies produce content and generate ideas to help increase leads and build the brand for their clients.
So, what liability exposure does this present in terms of insurance?
Before we get into those details, let's back up for a second and further analyze "liability insurance."
For starters, there are two types of liability insurance that a marketing agency requires:
Commercial General Liability
Professional Liability
Commercial general liability insurance (also referred to as CGL Insurance) protects your business in the event it causes tangible damage to another person or entity.
The easiest example I can give is if one of your employees accidentally starts a fire, which in turn destroys the landlord's office building.
This is one of the main reasons your landlord requires your digital marketing agency to carry a certain amount (usually $2,000,000) of insurance; it's in case you are responsible for damaging their property.
Professional liability insurance protects your business in the event that you cause financial harm to one of your clients.
An example that would apply to a marketing agency:
You produce a piece of edgy content, and a separate business owner decides to sue you claiming that you slandered their company's brand.
He's claiming your edgy piece of content cost his business $500,000 in lost revenue.
Maybe this business owner actually has a good argument, or maybe he doesn't.
But that's not the point.
The issue here is that you'll still need to defend your business in a court of law, which could run you thousands of dollars in defense costs.
These two examples demonstrate the core difference between CGL and professional liability.
Here's another easy way to distinguish between CGL Insurance and professional liability insurance:
CGL = Protection if your business causes tangible damage to a third party.
Professional Liability = Protection if your business causes financial damage to a third party.
As a digital marketing agency, you should have both types of coverage present on your insurance contract.
Cyber Insurance is the third type of protection your agency requires, especially if you're a digital marketer.
It protects you from malware, social engineering, or if you're held responsible for a cyber attack that affects your client's website.
We won't cover all of the details of a cyber policy in today's blog; to find out more, check out our cyber insurance post I wrote a few months back.
Helpful Tips to Prevent Marketing Agency Business Insurance Claims
Digital marketing agencies buy insurance hoping they'll never have to use it, so here are three solid tips that will hopefully prevent your firm from making a claim.
They'll also help you become a more reputable agency. 😊
Make client contracts simple and easy to read
Having a contract that gets to the point and is easy to read is not just good business — it will prevent client disputes.
A good rule of thumb is to compare your copy to an insurance contract… Then make it about 10x easier to read!
Seriously.
If your contract is too complicated for the average Joe to understand, consider re-wording it so that all parties are crystal clear on the terms and conditions of the agreement.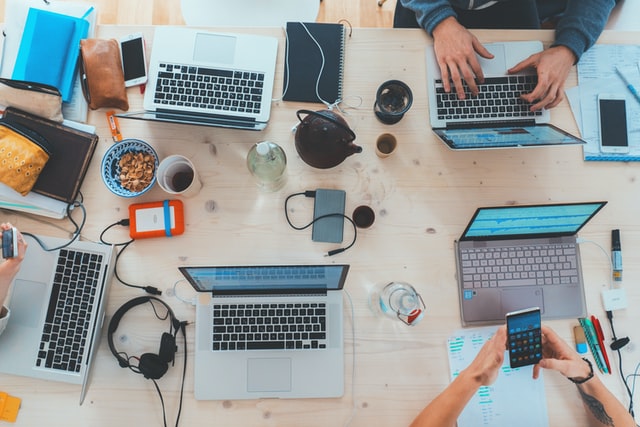 Define your scope of work
Let your customers know exactly what your scope of work entails; too much detail is better than not enough.
This being said, I'll bet that your agency has built websites for some of your clients…
Where is this client website hosted?
What happens if the website is the victim of a cyber attack and gets permanently erased from the web?
Who's responsible for this?
The most common response I hear from marketing agencies to this question is "well, it's not my fault if a hacker takes down my client's website."
And you'd be correct.
But that doesn't matter if your client doesn't see it that way.
They spent a lot of money on the website you built for them, and they'll be looking for compensation from your agency.
When it comes to building websites, be super clear on what happens in the event of a cyber attack.
If you're hosting the site on your own server, consider moving the site to a more secure server like Kinsta.
This way, you lower your chances of being held liable in the event a cyber attack destroys a client's website.
Make sure your clients sign off once the work is done
Having your clients sign off on work before it goes public will significantly lower your liability exposure; it's much more difficult for them to put the blame on you if they approved it themselves.
You don't need approval at every step of the process — that will slow down the workflow.
Try to at least have them sign off at regular milestones throughout the project.
Commercial Insurance Will Protect Your Business in the Event of:
So far, we've touched on why insurance is important for your marketing/branding agency and how to prevent making digital marketing insurance policy claims.
We also looked at which types of marketing insurance you need:
Property Insurance
Liability Insurance
Cyber Insurance
Now, we'll look at a few more real-life examples of when you'd actually be covered by a marketing insurance policy.
Example 1: The most obvious scenario is if your business suffers a fire or a theft. In this situation, you'd be covered at full replacement value.
Example 2: You are held liable for copyright infringement or stealing intellectual property rights. This would be covered by your liability insurance.
Example 3: You are accused of defamation; you accidentally slander another person or entity. This would also be covered by liability insurance.
With regards to liability claims, it's always important to keep in mind that an insurance policy will pay for your defense costs.
It's also important to note that even if a lawsuit may appear to be frivolous (you feel it doesn't carry any merit) you'll still need to defend yourself in a court of law.
And that's what your liability insurance policy is built to cover; your lawyer fees and penalty costs.
As long as you carry both professional liability insurance and CGL insurance, you can have the peace of mind that you're properly protected.
So, Should You Get Business Insurance?
All marketing consulting firms can benefit from having a business insurance policy, and as a commercial insurance broker, I'm obviously going to recommend that you purchase consultant business insurance.
But let's put my bias aside for a second, and I'll give you my professional opinion on a few scenarios.
If you're a start-up and cash is really tight, I can understand why you'd run your business without insurance.
But just remember this: if a client decides to seek compensation from your company for a mistake you made or damage you caused, are you able to afford a lawyer?
If the answer to this question is "no" then you should consider purchasing an insurance policy.
And if you're still not convinced that you need insurance protection, it's important to understand the risk you're taking.
The nice thing about KBD Insurance is we can tailor an insurance policy to fit your needs and your budget.
If you're moving into a new office and your landlord requires commercial general liability insurance, we can provide you with a "liability only" policy for under $1,000.
If your company has grown over the years and you feel it's time to have a full protection policy, we can take care of that as well.
A KBD business insurance broker can provide insurance quotes for your marketing company. As a reminder, we offer the following coverage for your industry:
Property Insurance
Liability Insurance
Cyber Insurance
To find out more, please do not be shy and contact us at (514) 636-0002 .
You can also complete a quote online for your marketing firm by clicking here.