Some people aren't aware that there's a difference between a distributor and a wholesaler?
In fact, even I didn't know until a few years ago.
(We'll explain the difference between the two later)
The distribution network is a major part of the supply chain and is one of the main reasons why you receive your Amazon orders on time.
This is an important part of our economy, so before we dive into the subject of insurance for distributors, let me offer a brief overview of the distribution industry.
The distribution channel is part of what's called "The Supply Chain."
Whatis.com defines the supply chain as "the network of all the individuals, organizations, resources, activities and technology involved in the creation and sale of a product, from the delivery of source materials from the supplier to the manufacturer, through to its eventual delivery to the end-user."
In plain English, the supply chain is a network of companies that work together to make a product or service and get it into the hands of the consumer.
It looks like this: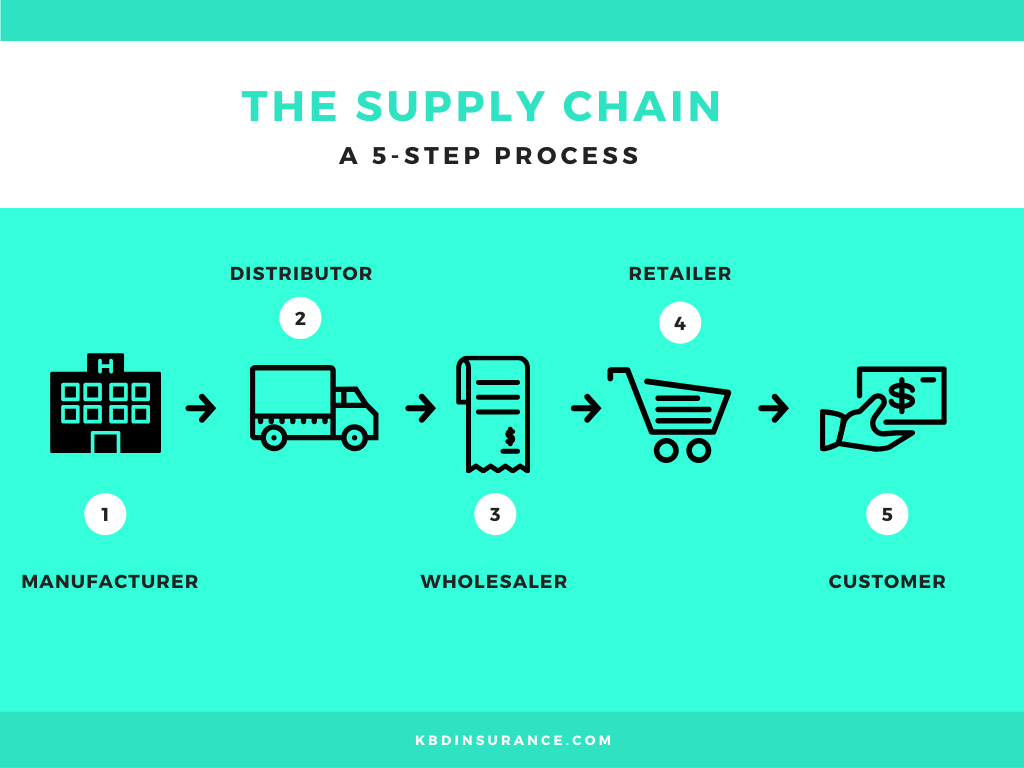 From this diagram, it's easy to conclude that distributors and wholesalers are essential to get the products we love into the hands of the customer.
So, what's the difference between the two?
If I could give a one-sentence explanation, it would be this:
A distributor works more closely with the manufacturer and a wholesaler works more closely with the retailer.
Distributors take a more active role in educating resellers; they often act as sales representatives.
For example, it's not uncommon for a distributor to sell products from one manufacturer.
They promote and educate resellers on the product and can also manage returns.
Wholesalers, on the other hand, have the advantage of selling whatever product the retailers need.
While wholesalers and distributors have slightly different business models, they both require the same type of insurance.
So, while talking about insurance, I'll be using "distributor" and "wholesaler" interchangeably for the remainder of the blog.
Learn more about insurance for Amazon sellers.
Distributor & Wholesaler Business Insurance Tips
Being a distributor means you buy the finished product and sell it to someone else; you're the middleman.
As commercial insurance brokers, we're interested in knowing where you buy your product, what you sell, and to whom.
These three questions all pertain to product liability.
Let's break down each question and why we require this information to provide your business with insurance quotes.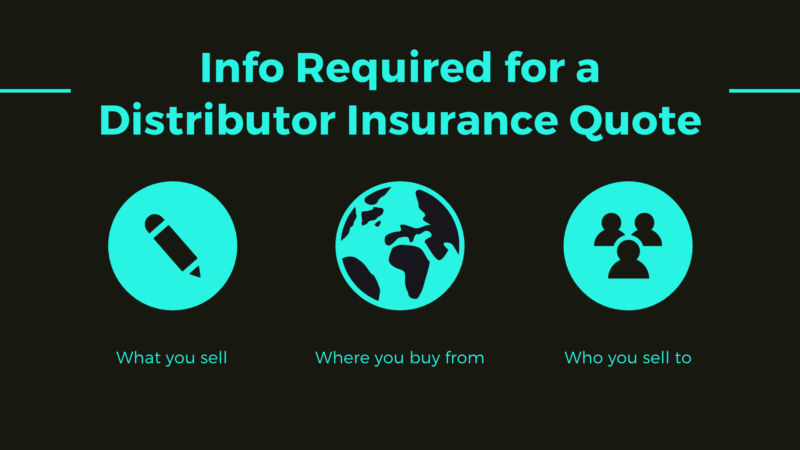 Where you buy your product
Let's start this explanation with an example.
Here's your supply chain network.
Manufacturer–> Distributor –> Retailer –> Consumer
You're the distributor, and you sell chainsaws that are made in China.
One day, the chainsaw cuts off the finger of a Canadian customer due to a product default.
Which company in the supply chain would be held responsible?
In other words, which company in the supply chain would be forced to pay for the damages?
This is what would happen:
Each company in the supply chain network would attempt to pass the fault onto the seller. The retailer would blame the distributor, followed by the distributor blaming the manufacturer.
After all, it's the manufacturer's duty to test the product for quality assurance and safety.
Right?
Well, it depends.
The liability claim would be easily passed onto a North American manufacturer, but not a Chinese manufacturer.
Here's why.
The Canadian gentleman who had his finger severed isn't going to go to China to sue the manufacturer.
Different laws, different language & different cultural norms. It would be too hard to sue a company in China, therefore the "fault" would move to the next company in the supply chain: the distributor.
All of this to say, when you import products from countries like India and China, you (the distributor) become the manufacturer in the eyes of the insurance company.
This is why wholesalers who sell high-risk products imported from China pay very high insurance premiums.
What you sell
The product you sell will also have a large impact on a wholesaler's insurance price.
For example, you'll pay less in insurance if you sell office furniture versus if you sell party balloons (high risk, since children can choke on balloons).
Whom you sell your product to
This concept is simple:
The more products you sell to the USA, the more you pay in insurance.
America is a very "litigious" society which means they sue often.
Your product liability insurance rates can be in some instances 10x higher if you sell to the USA.
Distributor & Wholesaler Insurance Coverage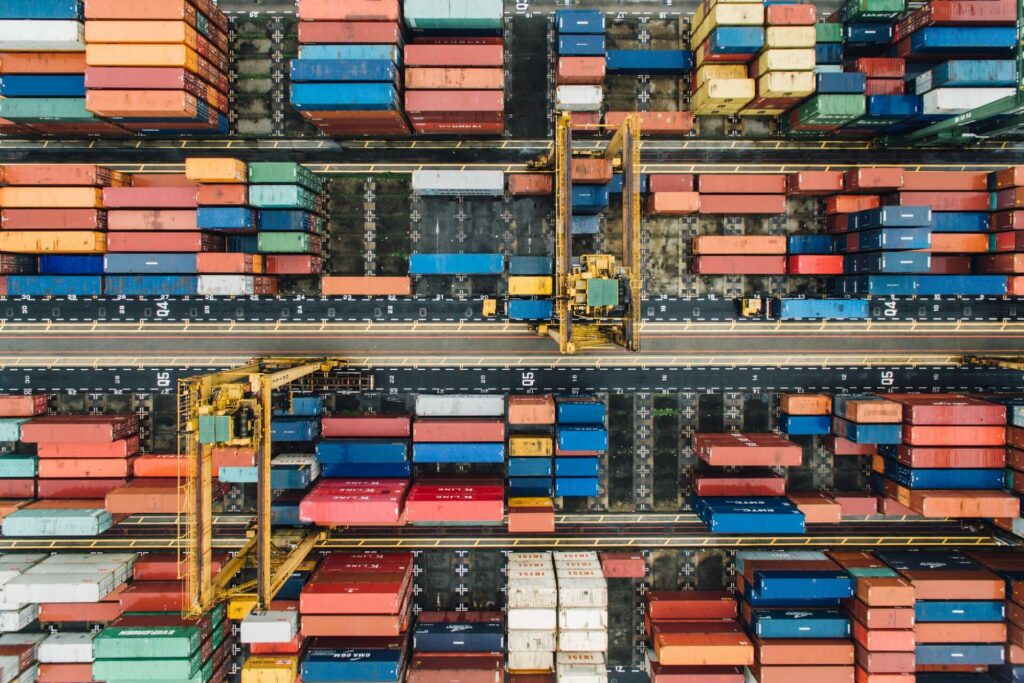 Let's look at 7 insurance protections you need as a company in the wholesale trade business:
Marine Cargo Insurance
If you're a distributor that imports your products from overseas, marine cargo insurance will cover them while being transported by sea or by air.
Product liability covers you in the event you are legally obliged to pay for third-party damage.
In other words, this insurance will cover your business if one of the products you distribute causes damage to someone or something.
This type of insurance works exactly like home insurance; it covers your distribution business against fire, theft, vandalism, floods, earthquakes and more.
Commercial automobile insurance
You'll need this coverage if you have salespeople on the road & if you make small deliveries.
Commercial automobile is not to be confused with transport insurance. Transport insurance is for very large deliveries of goods.
Business Interruption Insurance
This covers you for loss of profits, fixed costs, and administrative payroll after a claim event.
If your business suffers from a covered loss, (like a fire) business interruption insurance will also pay for your lost profits while the business is shut down to make the fire repairs.
Distributors & wholesalers rely heavily on their computer software to keep track of orders.
In today's digital era, who doesn't?
Cyber insurance covers your company from cyber hacks and is very affordable for smaller sized distributors.
If you're an e-commerce distribution company, having a cyber insurance policy is absolutely critical as the majority of your business is transacted online.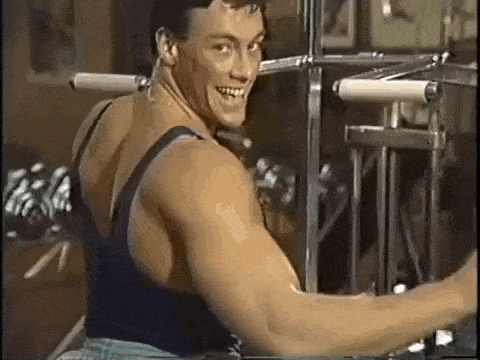 How much does distributor & wholesaler insurance cost?
As with all other insurance products, there is no one-size-fits-all when it comes to how much insurance costs.
How much you will pay in premium depends on a few factors:
Amount of product/stock you keep on hand in your warehouse
Annual Revenue
Reconstruction cost of your building
Type of product you sell
Factors 1 through 3 are pretty straight forward; the more stuff you need to insure, the higher the cost will be.
But what about point #4?
The type of product you sell influences your business insurance premium for two reasons:
If your product is a high theft item (example: you distribute cell phones) 
If your product is a high liability risk (example: you distribute ladders)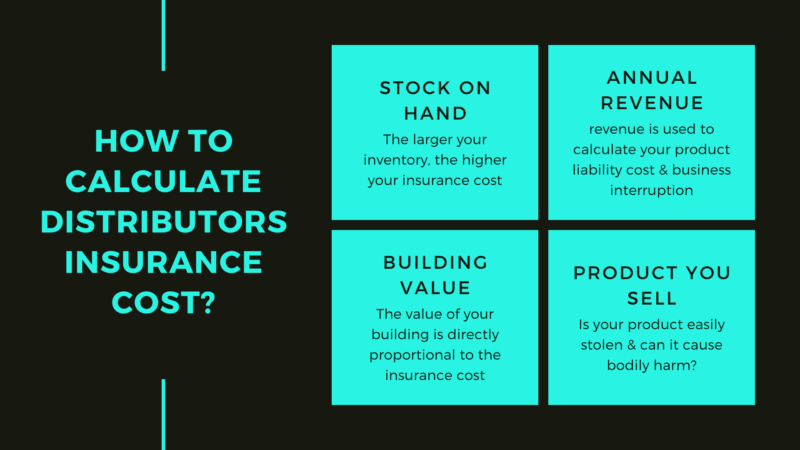 Conclusion
We discussed how important distributors and wholesalers are in the supply chain and the difference between the two:
Distributors work more closely with manufacturers and wholesalers work more closely with the retailers.
And while there may be a slight distinction in their business operations, the insurance requirements are almost identical.
We also looked at the 3 biggest factors a commercial insurance broker will need to know in order to provide a commercial insurance quote:
What products you distribute
Which countries you buy the products from
Which countries you sell the products to
Getting a quote for your distribution company is very straight forward, and KBD would be more than happy to help you on that front!
Give us a call today at 514-636-0002