Just bought a shiny new car?
That's exciting.
We really hope you don't smash that thing up anytime soon.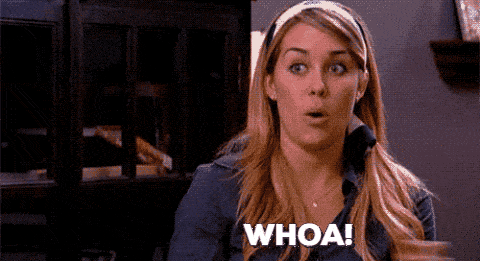 Woah — sorry. That was a little dark!
All we're trying to say is, once you get past the bliss of copping that new ride, one of the first things you should do is prepare for the worst: get yourself some car insurance.
Just in case.
But don't take it from us: legally, you're required to carry car insurance to drive in Canada, so you don't have much of a choice in the matter.
So how much does car insurance cost in Montreal nowadays?
Let's start with some good news: Quebec has the lowest average premiums in Canada.
(British Columbia's are the highest according to the Insurance Bureau of Canada.)
As of August 2019, the IBC pegs Quebec's average rate at $717.
Here's a graph taken from Canada Drives summarizing how much the average Canadian pays in car insurance.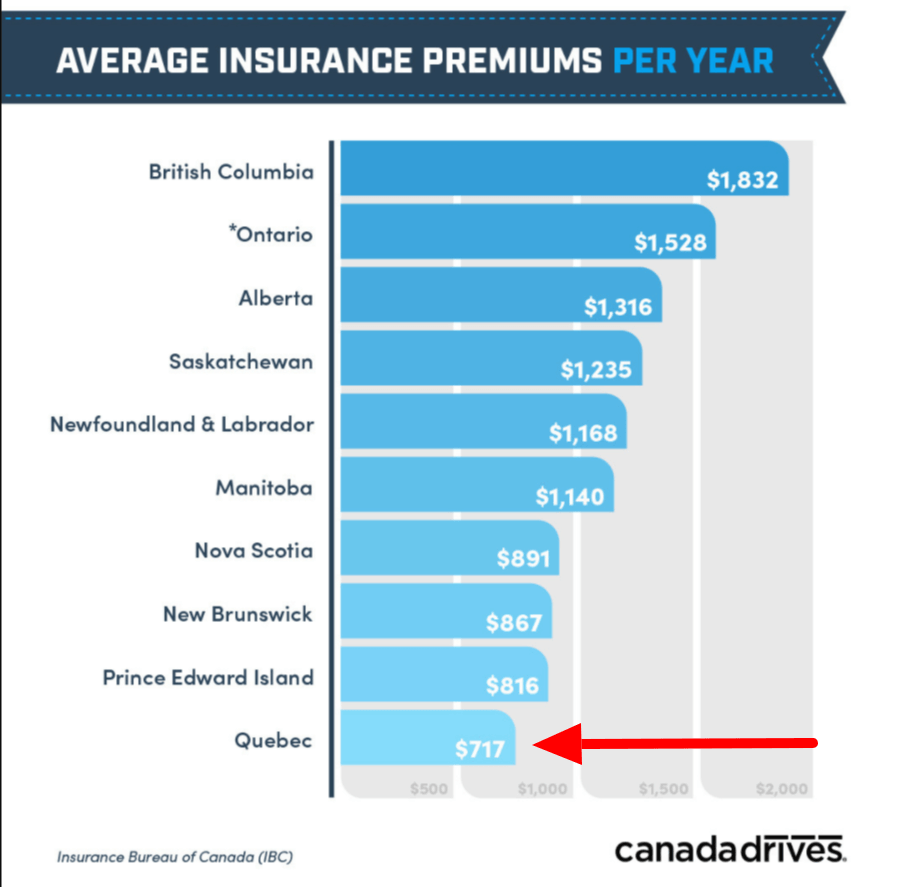 But as with most other provinces and following past trends, rates are expected to climb again in 2021.
According to KBD Insurance data, the average car insurance cost in Quebec has increased to $898 for the year 2021.
Since higher population density in the city means more traffic on the roads, higher risk of accident, and greater chance of theft or vandalism, car insurance in Montreal is even more expensive than the provincial average, probably around $1100 / year.
The data isn't perfect.
Still, we can provide this informed opinion: we expect rates to increase another 5% – 10% in 2021.
Keep reading to find out why.
In today's blog, we are going to cover the following:
First, let's look at why Quebec and Montreal auto insurance costs are what they are — and why we can expect an increase.
According to Le Soleil data, the average cost of a claim in 2008 was $3,559.
By 2018, this amount had increased to $4,794.
So in a 10-year period, the average car insurance rate in Quebec shot up 34%. (Despite what you might have heard, the frequency of claims has not increased.)
During that same period, premiums — the amount of money the insured pays for their policy — increased only 5.7%.
In other words, the average Quebec auto insurance cost went from $563 to $595 / year between the years of 2008 and 2018.
The gap between rate and premium increases helps explain why insurance companies have started to play "catch-up."
How do we explain the rising cost of claims?
Cost of materials & labor increasing: shipping costs and cost of goods rise over time.
If you shatter a headlight and need it replaced, it stands to reason that if the cost of the part goes up, the cost of repair will too.
Side note: if you're the economist type, you might be shaking your head right now — inflation is only at 2%, so how is the gap so big?
I'd challenge that assertion.
In my humble opinion, the Consumer Price Index — the measure used to determine inflation — is flawed.
You need only look at the stock market, food prices, and real estate to know that the CPI isn't accounting for massive price increases in other parts of the economy.
Technology: new cars produced today hardly resemble the ones made even 10 years ago.
Most vehicles today come equipped with bumper cameras, side mirror sensors, and fancy dashboard navigation systems.
A simple side mirror replacement costs a lot more when that mirror needs a camera or sensor replaced too.
And how do we explain the insurance companies' need to play catch-up by raising premiums?
With the skyrocketing cost of claims, insurance companies saw their margins slip — and in many cases even began to lose money when it came to underwriting.
As publicly traded companies, they need capital.
The companies that show the greatest returns are the ones that attract investors on the stock market.
So how do they maintain the margins that make them attractive to investors?
Increase their premiums.
How to find cheap car insurance in Montreal
Finding the cheapest rates on auto insurance in Montreal remains very doable.
The best thing you can do is shop around.
In 2021, that's quick and easy to do thanks to something we like to call the Internet.
Nowadays, all companies provide car insurance quotes online. (If they don't, consider moving along…)
Collect as many quotes as you can, and choose the one that works best for you — likely the cheapest one.
Working with a car insurance broker like KBD can make that process all that much easier, because we can do the work for you.
We shop around for you, comparing rates from multiple companies to find you the best car insurance price possible.
We recently expanded to partner with two additional Canadian insurance companies: L'Unique Insurance and Economical Insurance.
Plus, we have a long-standing relationship with Intact.
How can I lower my car insurance cost?
Drive responsibly

Now that's just good sense. But as far as your car insurance price goes, it matters. The more speeding tickets and traffic violations you rack up, the more you can expect to pay. (The SAAQ can also charge you more to renew your license based on your driving record.)

Bundle up

Yes, Montreal winters are cold. But that's not what we're talking about here. By combining your car insurance with another type of insurance, such as a home, tenant, or condo policy, you can lower both rates. That's a win-win.

Avoid small claims

Claims stay on your file and act as red flags for insurance companies. The more you have, the higher your rate. So if you're considering making a claim, ask yourself whether you could afford to pay it out of pocket. If you can, do so.

Avoid claims, period (when possible)

Avoiding small claims is a roundabout way of saying you should avoid claims in general. The more you have on record, the higher your future rates. The small ones are just the easiest to avoid.

Telematics

Most car insurance providers offer this way of reducing your premium: Sign up for an application that tracks your driving habits — and drive responsibly. Telematics provides insurance companies with more accurate driver data and helps them establish information-based premiums.
Do auto insurance claims affect my price?
Not only do claims affect your car insurance price, they are one of the biggest factors.
Responsible claims affect your premium more than any other.
Say you've scraped your car on a fixture in an indoor parking garage.
That's a responsible claim — it was your fault — and if you can afford to pay for the repair yourself, you should.
Insurance companies look at the amount of claims you've submitted, and not the size of the claims.
The more responsible claims on your record, the more you'll pay.
For example: if you submit two responsible claims in a span of two years, you can expect your premium to double — at least.
That's why it's important to pay smaller claims out of pocket any time you're able.
The further you get from the time of your most recent claim, the less impact it'll have on your premium.
And claims stay on your file for five years.
So when you've had a long stretch without making a claim, what do you do?
Pro tip: if you know that it's been four or five consecutive years since your last claim, shop your insurance. You can save hundreds of dollars by approaching insurance companies with a clean file.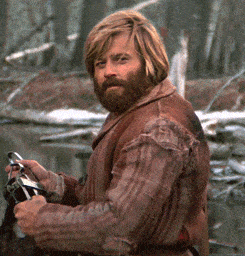 Lower your car insurance cost in Quebec today
Switching insurance companies is easier than you think, and it shouldn't be what's holding you back.
KBD offers online quotes, but also provides expert help from car insurance brokers whose job is to answer your questions.
Don't take our word for it.
See what our customers are saying about us over at Google Reviews.