There's a first time for everything.
Often, that first time is a little rough.
Let's face it: You don't know what you're doing.
You know it'll get better, but you just don't know when.
We'll be honest.
It takes a while.
And it's totally different for men and women.
We're talking, of course, about car insurance.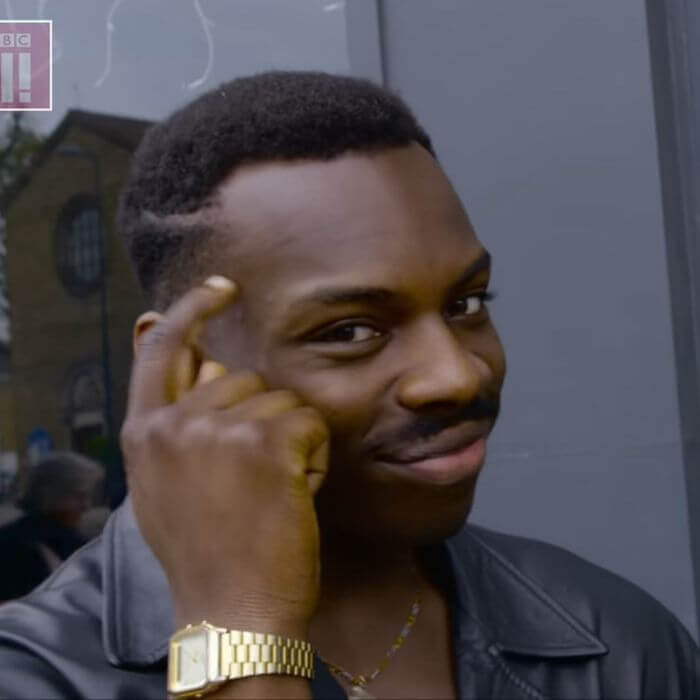 Car insurance can be tough on first timers.
It's more expensive, and it takes a while to get your rates down.
First of all, let's define what first time car insurance IS, and what it ISN'T.
First time car insurance typically refers to a kid (or young adult) purchasing a car for the first time.
And that car is registered to their name.
We're NOT talking about driving Mommy or Daddy's car and being listed as a secondary driver.
When that's the case, the secondary driver doesn't own the insurance policy because they don't have an insurable interest in the car, meaning they won't suffer financial loss even if they total it.
(Hands up if that's happened to someone you know 🙋)
Common first time car insurance buyers include people under 25 years old, newcomers to Canada, or people that have simply procrastinated on getting their license and/or buying their first car.
Here's what we'll cover in today's blog.
Let's get right into it.
How to get car insurance for the first time
Buying automobile insurance for the first time is pretty damn easy.
And we should be thankful that Quebec car insurance is the way it is, because it's not the case everywhere.
Just the other day, we had a potential client visit our office.
He had just moved to Montreal from British Columbia, and getting a car insurance policy was high on his list of To Dos.
(Good on him!)
He was a little confused when I asked for his phone number (strictly professional, I promise 😉)
and you should have seen the look on his face when I told him one of my representatives would call him within 10 minutes.
See, in BC, car insurance is run through the government.
He thought he had to show up to my office and sign a bunch of documents, and then probably wait weeks while we processed his files.
Not in Quebec!
In Quebec, you can get first time car insurance in one of two ways.
Online: Get your quote online, then finalize with an agent over the phone.
You could technically do the whole thing online with an insurer like Sonnet, but I don't recommend that for first timers.
You'll want to speak with a real human that can answer all your questions — and bust all the insurance myths you might have from your previous home.
By phone: You can also choose to do the whole thing over the phone.
It won't take more than 3-5 minutes.
Our brokers have access to several insurance providers and can quote you right away.
Finding the cheapest car insurance for a first time driver is something you can do without leaving your house.
Man, do they have it rough in BC.
Imagine calling the City of Montreal for your car insurance?
Imagine making claims that way?! 🤮
That's what less regulation does for a marketplace!
We'll admit, Quebec is still pretty regulated when it comes to insurance, but we have way better than they do out on the west coast.
So if you're buying automobile insurance for the first time in Quebec, just be thankful you have it easier than your cousins out west.
How much is car insurance in Quebec for a first time driver?
Depends on your gender.
Seriously.
As of 2019, the average annual cost of car insurance in Quebec was $717, the lowest in Canada.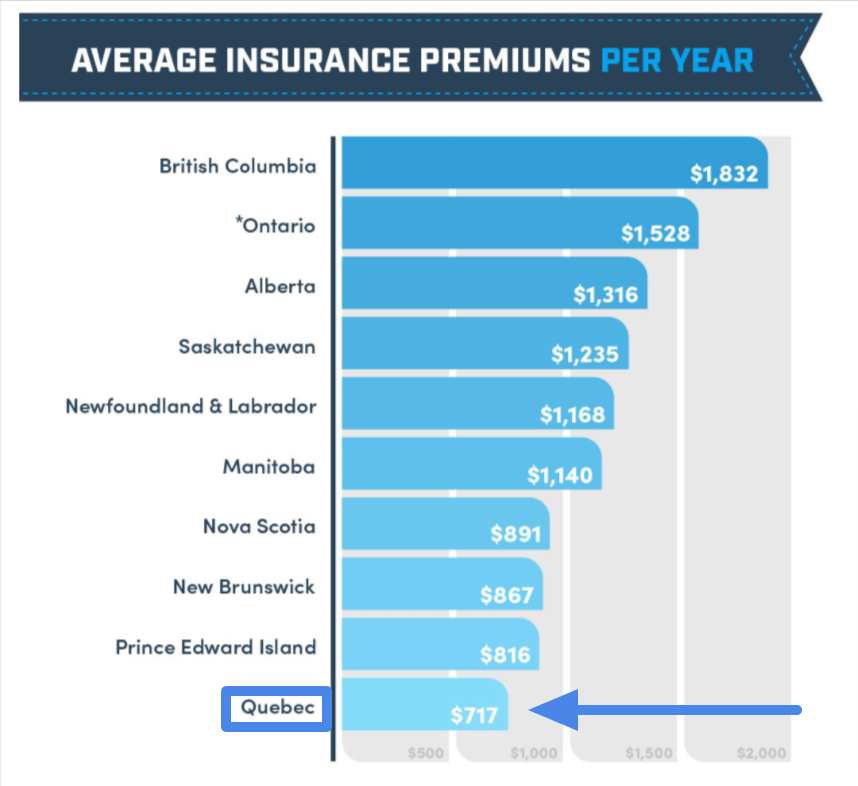 KBD data suggests that number has climbed to $898 for 2021.
But insurance for a driver under 25 will always cost more.
And men and women pay different prices for car insurance.
Believe it or not, it's not sexist at all.
If we take a male and a female, both under 25 and with the exact same driving record, the male can expect to pay 25-50% more.
That's because insurance rates are based on data.
And the data shows that men — in particular, young men — get into more accidents and make more car insurance claims than do women.
So, dudes, you can shit on women drivers all you want.
The stereotype should be the other way around!
Okay, some first time car insurance tips.
As a first time car insurance owner, it's super important to behave yourself on the road.
Stay out of trouble.
When you're new to the game, insurance companies don't give you a lot of rope.
If you get into an accident early in your car insurance career, you can get demolished with price increases.
There's not an insurer out there that won't hike your rate.
Another thing to keep in mind:
When you first get your driver's license in Quebec, you start with only four demerit points, meaning it's easier to lose your license.
And a license suspension — regardless of how many points it took to lose — puts you directly on the high risk car insurance market.
And that's a guaranteed increase in car insurance premiums.
How to lower car insurance for first time drivers
There are two ways:
Be careful behind the wheel!

Seems obvious, but if you stay out of trouble, avoid making claims, and stay out of that high risk market, your clean record can put you in line for a price reduction at renewal time.

Sign up for telematics

Telematics is the car insurance system that tracks how you drive to determine your cost of insurance. Insurance companies want you to sign up, so they offer discounts for good driving habits. (Of course, if you're a dangerous driver, your rate can go UP too.)
The average discount for people who download the app is 9-15%.
They say you can save up to 25%, but I've only ever seen ONE driver get the full discount.
That was, you guessed it, an old lady living in a rural area that drove like, well, an old lady.
So you're wondering: How can I get the cheapest car insurance for a first time driver?
Telematics is one of the best things you can do.
To determine an insurance price for any given person, there are roughly 100 data points insurers can pull from.
(That's why we can never determine exact prices until it's time to dish out the policy.)
Credit score used to be the biggest indicator.
Heres an example from incharge.org :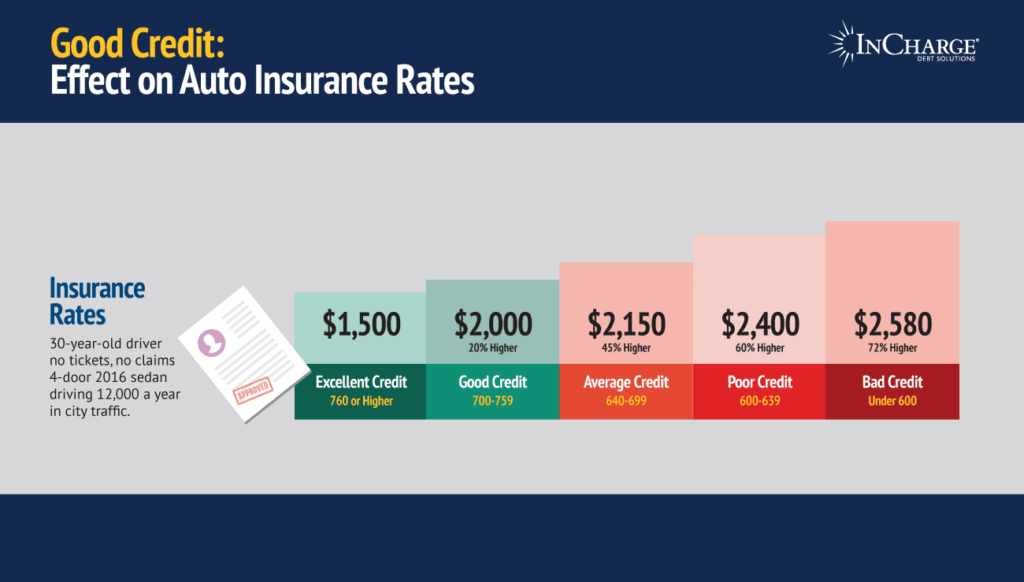 Now, the most important factor is whether or not a person signs up for telematics!
If you sign up for telematics AND you're a good driver, insurance companies will LOVE you.
And they'll keep your rates low in order to hang on to you as a client.
At what age does car insurance go down?
Generally speaking, car insurance prices tend to go down after the age of 25.
Again, it depends on so many factors. But insurance for drivers under 25 will always cost a little more.
That rule of thumb assumes you have a clean record.
If you have 10 claims on your file, it doesn't matter how old or young you are, those rates aren't going down.
At the end of the day, it all comes back to the same thing: Shop around every two or three years.
If you have a clean record, meaning you make no claims, you're most likely going to find lower car insurance rates in Quebec.
Wrap-up
Let's end with a personal anecdote.
I'm here to make an admission: When I was 18 years old, I was an absolute maniac behind the wheel.
So were a lot of my friends.
I was a good example of why young boys pay more for car insurance than anyone else.
Honestly, I would have hated insuring myself at that age.
Now I know how the insurance companies feel.
But over the years, I've matured quite a bit! And in the past few years I've been able to lower my car insurance rates quite a bit.
How?
By behaving myself behind the wheel AND by signing up for telematics.
As the president of an insurance company, it was probably in my best interest to get it together and be a model insurance client.
But still, props to me! 👊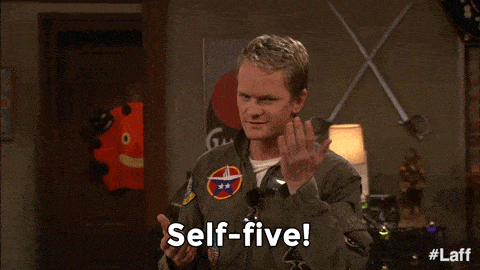 All that to say, car insurance is a long road. As a first timer, times might be tough.
But stay patient, behave, and make smart choices.
You'll be on the other side in no time.