How do you find the best insurance companies in Quebec? Look no further. In this list, we're ranking the top insurance companies in the province, based on 2023 Google reviews. After all, happy (and unhappy) customers don't hold back when it comes to their insurance service.
Looking for the best insurance companies in Quebec?
First, you should know that insurance is a grey area.
Plain and simple.
A lot of people would like for it to be black and white, for it to be 'rankable', or for it to be easily explained: An insurance company is either cheap or expensive.
It has good customer service or bad customer service.
It's a good insurance provider or a bad one.
Unfortunately, that's just not how it works.
Insurance is one massive grey area.
There's no such thing as best or cheapest.
Having said that, today we're providing you a list of the best and cheapest insurance companies in Quebec.
But didn't we just say — yes, we did.
There's no such thing as the best and cheapest insurance company.
To be more specific, it's impossible to pin down one company as the best, or another as the cheapest.
And that's because each reader — or each person buying insurance — is different.
Insurance companies use data to inform their prices, which means that a customer's demographics, driving experience, location, and many more factors play a huge role in determining an insurer's cost and quality for them.
In short, no two people can approach an insurance company and expect to get the same quote.
So how do you find the best insurance for you?
Listen to what existing customers are saying about each company
Shop around
Step 1 starts now.
Want to go straight to the rankings?
Skip ahead.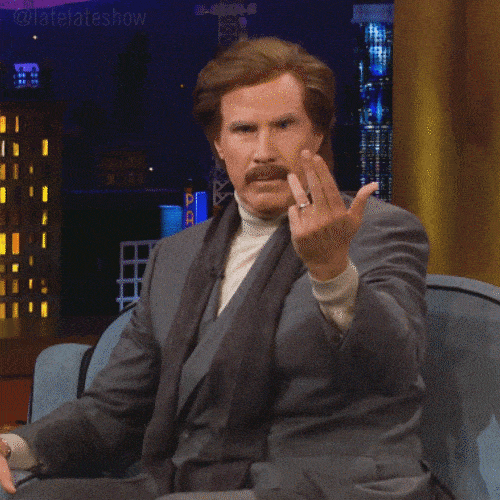 What's the best way to find out what customers think of their insurance companies?
Read their Google Reviews!
Rather than building a definitive list of the "best" insurance companies around — that doesn't exist, remember? — I'll instead provide a list of the top ranked insurance companies in Quebec based on their Google Reviews and ratings.
Consider this an exhaustive list of Quebec insurance companies you can refer to before making a purchase decision for your home or car insurance.
Use this as a starting point; not a bible.
Throughout the article, you'll see Google Reviews determining which insurance companies Quebecers enjoy the most.
Google Reviews are a good metric to find the best insurance companies in Quebec, because they take into account several factors:
Satisfaction with customer service
Satisfaction with claims
Satisfaction with pricing
But, why make these rankings in the first place?
Glad you asked.
It's because I don't like the information currently available to you.
When I Google search "best insurance companies in Quebec", like you might if you were doing this on your own, the results are not reliable.
This list will be.
For example, the first result belongs to Carsurance Canada.
Their Car Insurance in Quebec article uses, in my opinion, a very poor method to rank insurance companies.
They split all the insurance providers into two categories: Best and cheapest.
And to determine these answers, they use a profile of a "40-year-old single male driving a 2018 Honda Civic with a clean driving record."
Don't get us started.
As we've said, there's no such thing as the "cheapest" insurance company.
Insurance markets work in cycles, meaning that companies able to provide cheaper insurance one year may have to increase their rates the following year, and vice versa.
Any insurer that offers the cheapest rates year after year simply won't stay in business for very long.
The market is too competitive and margins are too thin for any one company to win that way.
Back to the Carsurance article.
They ran their tests using one hypothetical 40-year-old Civic driver — and that was that.
They crowned three champions.
What?!
Insurance does not work this way.
Just using Mr. Honda as an example makes a mockery of the whole thing.
It skews the rankings.
Because no two insurers will view him the same way.
Seriously.
Honda Boy could call two car insurance companies on the exact same day and provide the exact same information … and get completely different quotes.
Company A might LOVE 40-year-old single males (and be partial to the Honda Civic), while Company B might not have an appetite for that type of driver.
So the point here is this: Every insurance customer is different.
They have a different car, different driving record, they live in a different location.
There are too many factors.
On the other side of the coin, insurance companies have their own preferences.
That's why it's crucial to shop around until you find the right fit for you.
You might love an insurance company.
But does it love you back?
Given that insurance rates fluctuate and companies' appetites vary, I've decided to rank the companies only by Google Review.
Since it's impossible to determine the "best" or "cheapest" company, why not leave it to the people?
Let's hear what the masses have to say.
Full disclosure: KBD works with the following Quebec home and auto insurance companies:
Intact
L'Unique
Economical
Only one of these companies is included in the top three of these rankings.
Let's get to 'em.
Top 3 insurance companies in Quebec (according to Google)
Note: In order to make this list of insurance companies, each company had to offer both home AND car insurance in Quebec.
And we've updated this list to reflect 2023 Google ratings.
#1 — Beneva [4.7 out of 5 stars]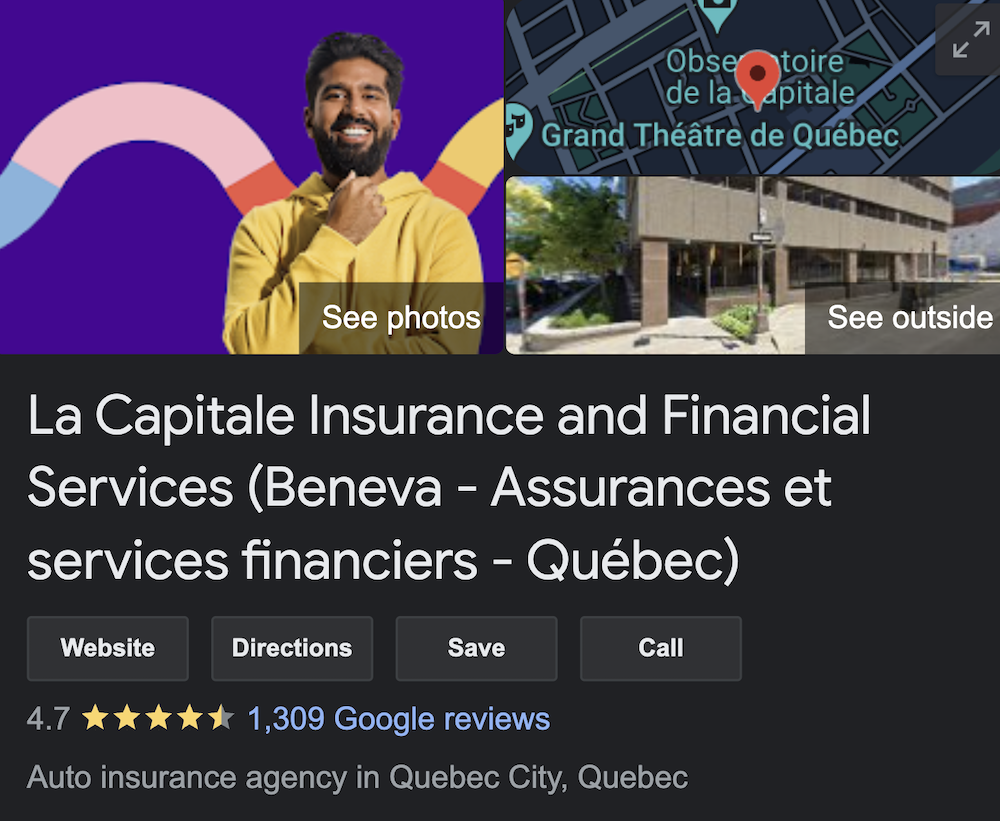 Beneva is a new direct insurance company created out of a merger between La Capitale and SSQ.
They're a big player in Quebec.
Since they're new, I looked to La Capitale's Google Reviews — there are more than 1,300 — to determine their ranking.
#2 — belairdirect [4.2 out of 5 stars]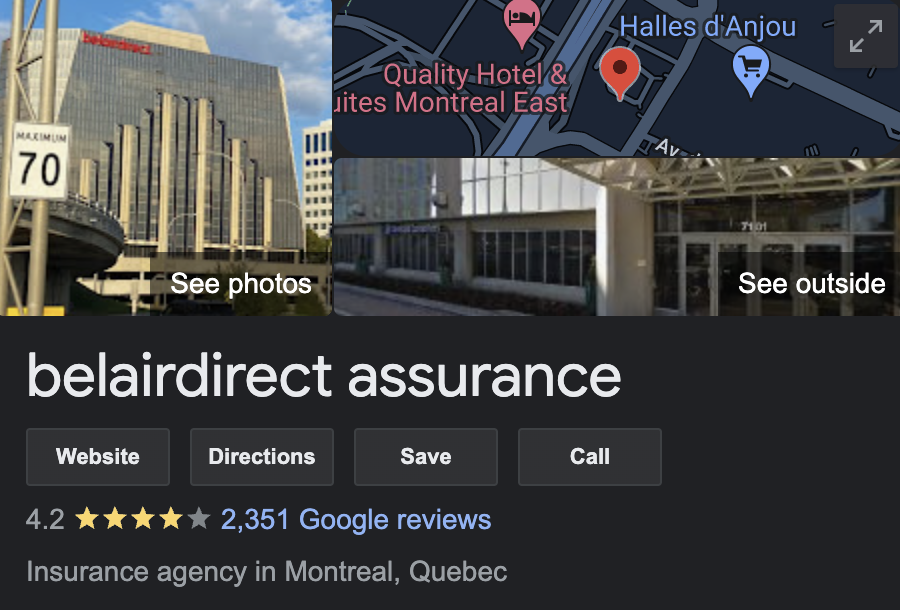 Another direct insurance company, this one owned by Intact Financial Corporation.
Belairdirect is no newbie; they've been around since the 1950s.
Today, they're best known, perhaps, for their easy to use website.
#3 [Tied] — L'Unique [4.1 out of 5 stars]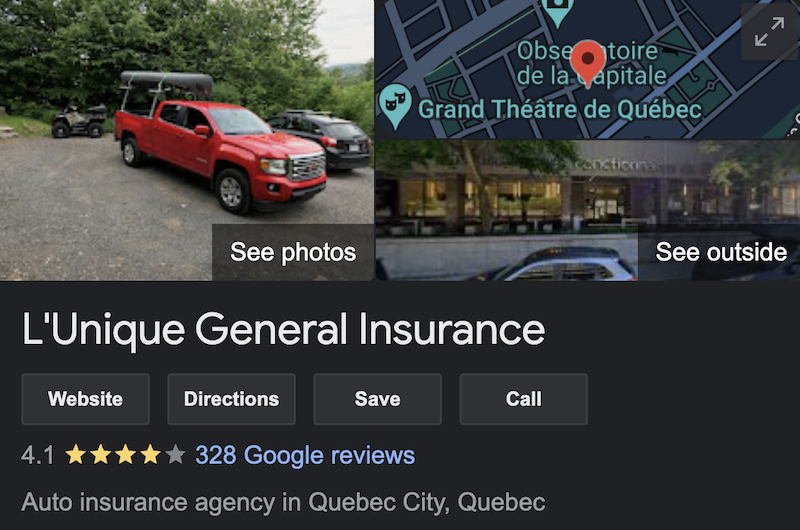 This company is owned by the top ranked insurance company on our list, Beneva.
They only sell through brokers and only operate in Quebec.
If you're interested in working with L'Unique, give the team at KBD a call.
Or you can read our in-depth guide on getting insured with L'Unique here.
#3 [Tied] — Sonnet [4.1 out of 5 stars]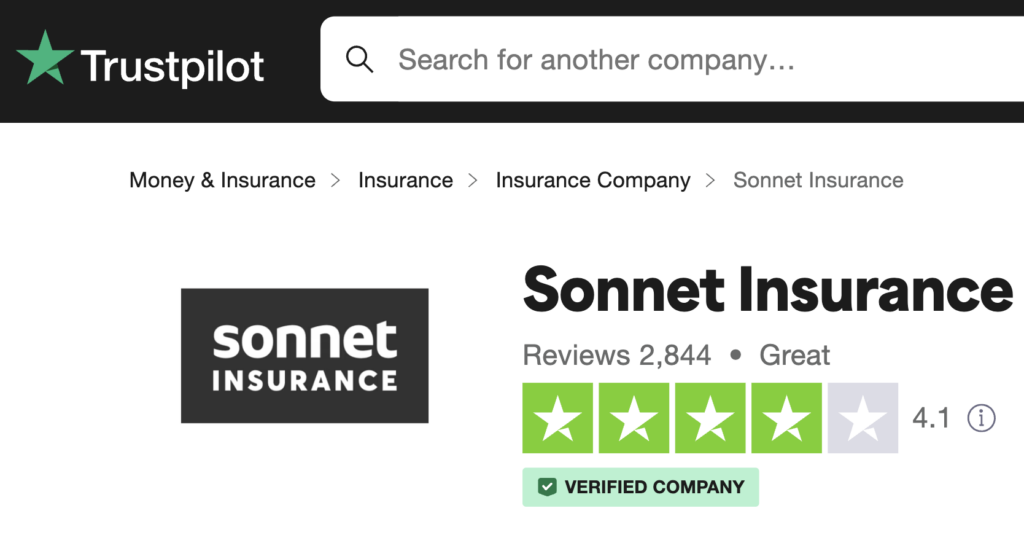 Sonnet is a direct insurance company and is unique in that they operate 100% online.
They're growing, and have gained significant market share in Quebec over the last few years.
They're owned by Economical Insurance, who just IPO'd under the title Definity Financial Corp.
And Healthcare of Ontario Pension Plan owns a 20% stake in Definity.
#3 [Tied] — Promutuel [4.1 out of 5 stars]
Promutuel has an interesting business model: They sell direct to consumers AND they sell through insurance brokers.
That's a rare combo.
Still, no matter whether you go direct or through a broker, it's the same company paying out your claim.
Like L'Unique, they only offer insurance to Quebec-based clients.
Notable mentions – insurance companies in Quebec
#4 Intact — [4.0 out of 5 stars]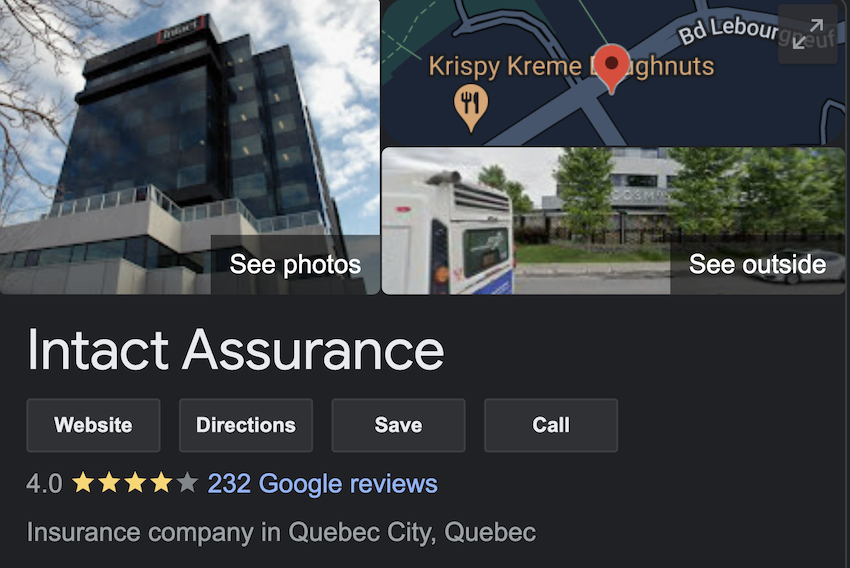 Canada's largest insurance company.
Intact operates using a broker system, meaning they don't issue insurance policies themselves.
Instead, they trust that task to insurance brokers like KBD.
But not like KBD — we literally do work with them!
#5 — The Co-operators [3.8 out 5 stars]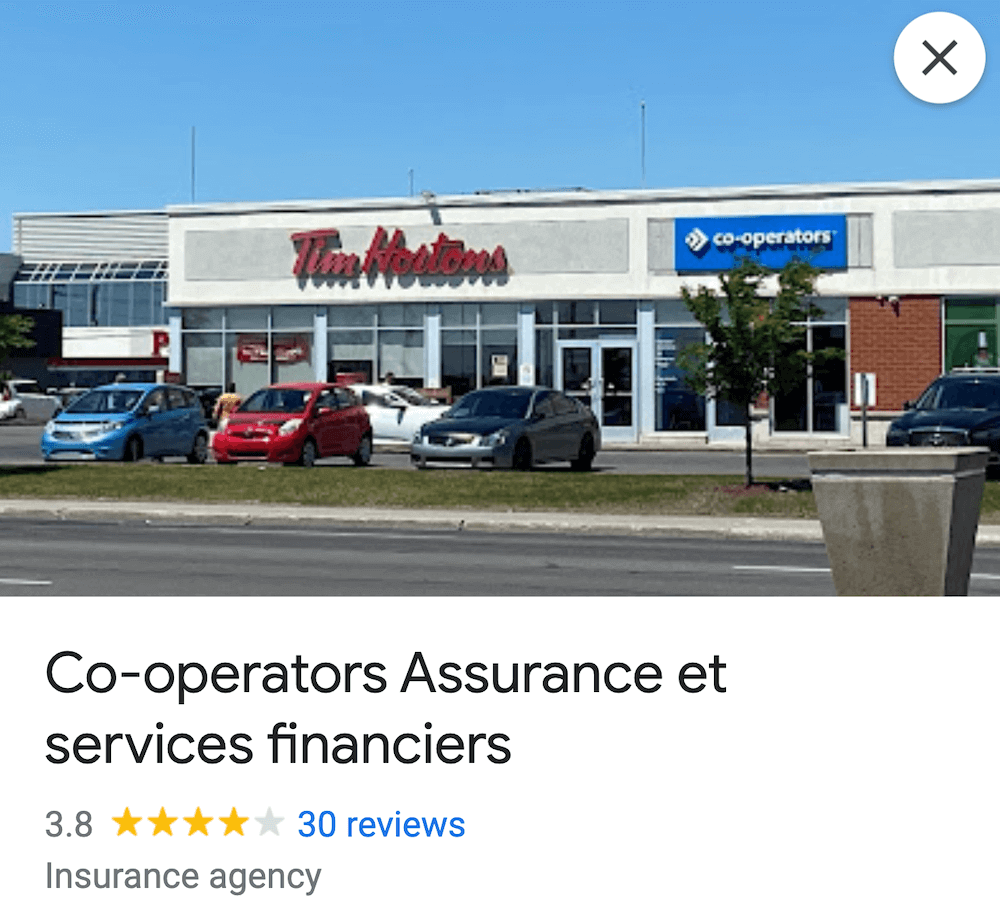 A direct insurance company that serves all of Canada.
#6 — [Tied] Allstate [3.5 out 5 stars]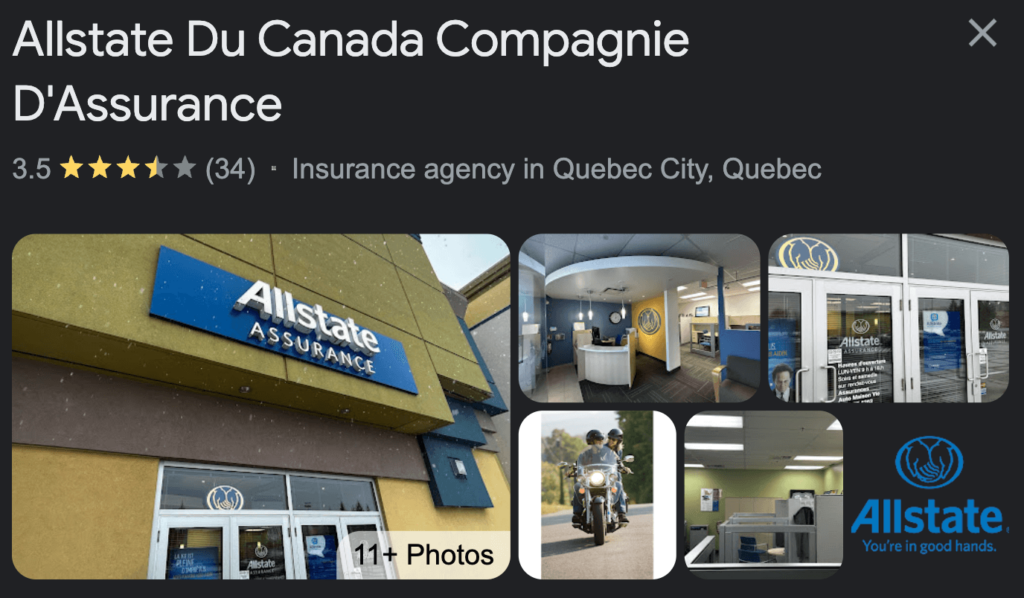 A direct insurance company selling through Canada and the United States.
They're also responsible for these hilarious TV commercials.
#6 — [Tied] Desjardins [3.5 out 5 stars]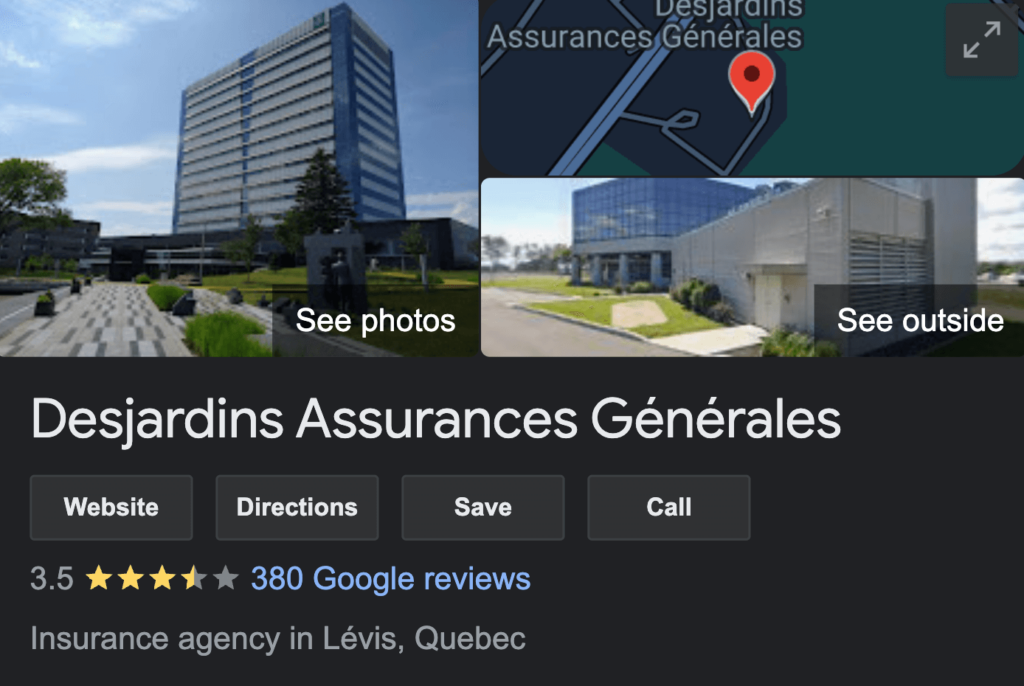 The second largest insurer in Canada.
They're a major player in Quebec and Canada, not just as an insurance company but as a financial institution.
They've been investing heavily in their insurance arm and gaining market share in the province.
Pro tip: Desjardins usually offers a competitive rate for first time car insurance for young drivers, typically a tough policy to find on the cheap.
#7 [Tied] — The Personal [3.3 out 5 stars]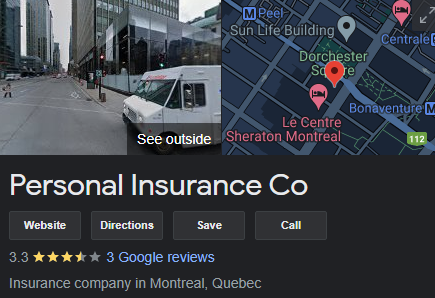 Speaking of Desjardins, The Personal is their subsidiary.
They operate as a direct insurance company but offer group insurance only.
For example, they would offer occupational discounts to engineers, accountants, and others that work at specific firms.
#7 [Tied] — Industrielle Alliance [3.3 out 5 stars]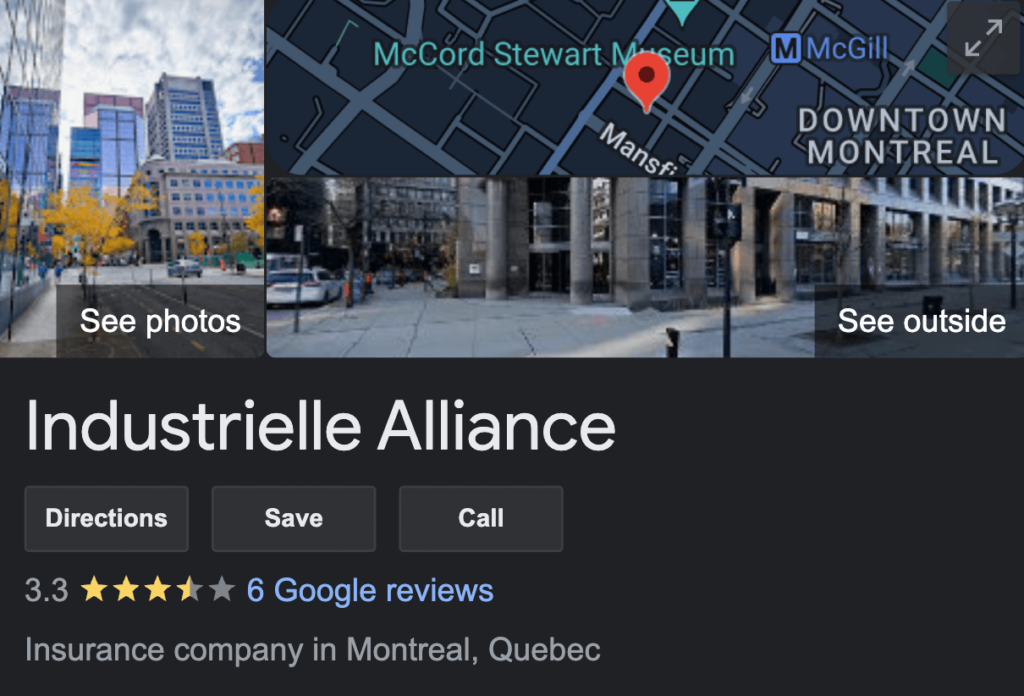 Industrielle is a direct insurance company that also sells financial services like life insurance and investment products.
#8 — CAA Quebec [2.6 out 5 stars]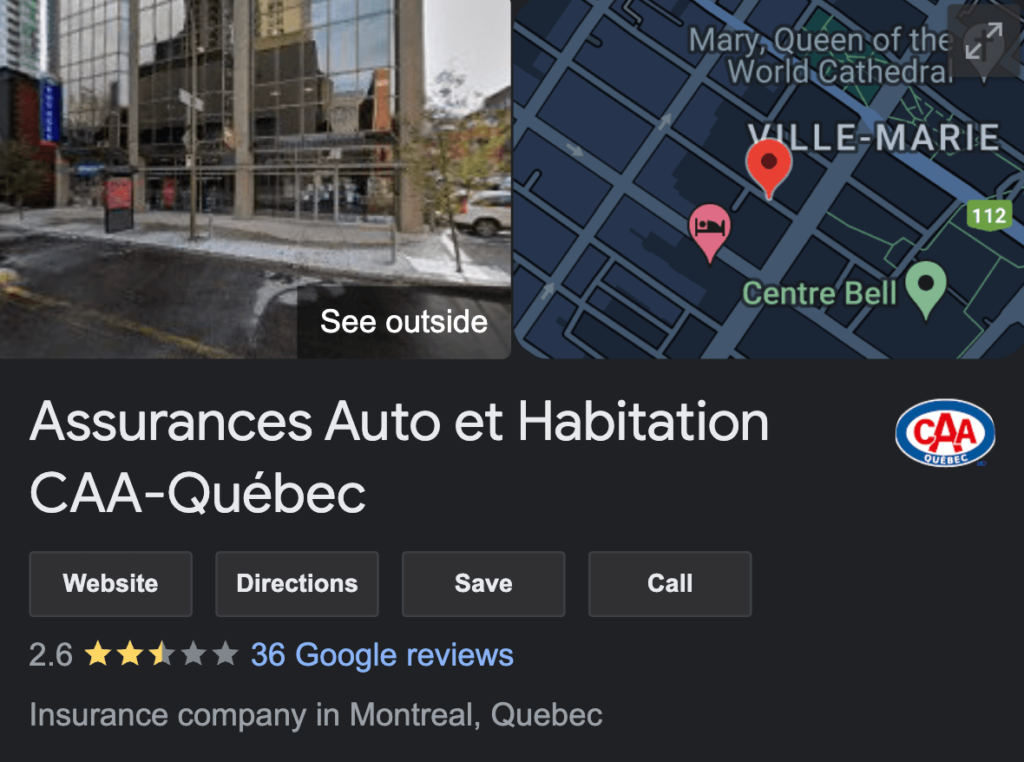 That's right — the same group that provides roadside assistance when you blow a tire or run out of gas.
They're new to the insurance game, but they've started with home and car.
We expect their rating to go up as they gain their footing.
#9 — Wawanesa [2.5 out 5 stars]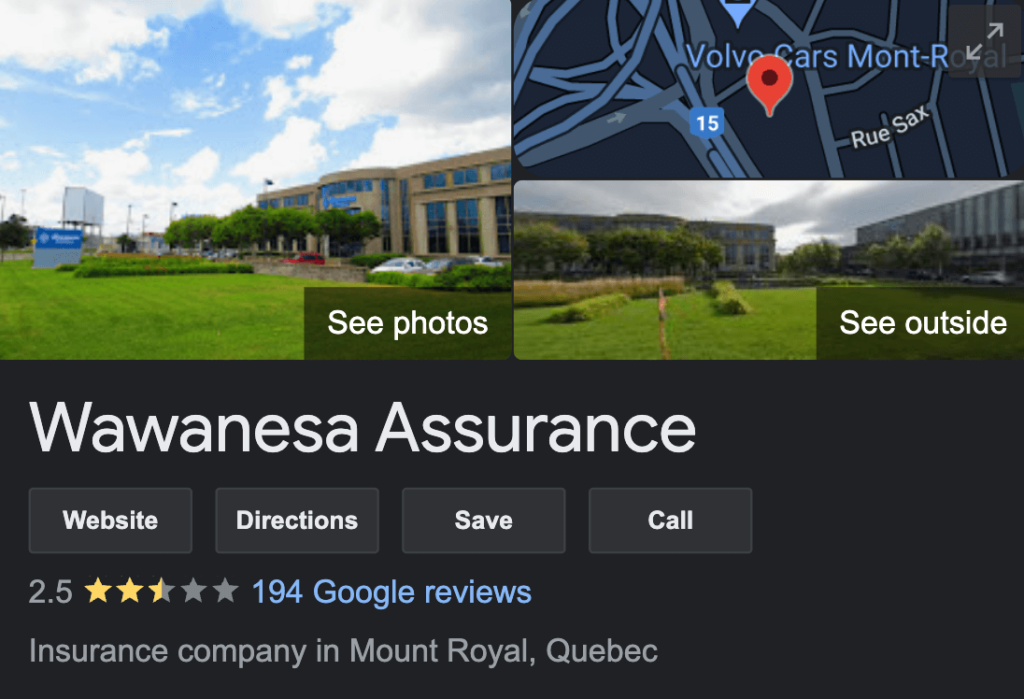 Wawanesa provides home and car insurance, but have a sort of complicated origin story.
It was traditionally a direct insurance company, but a group of 14 local insurance broker companies purchased Wawanesa's Quebec division.
So when you call them, you'll be going through one of 14 brokers.
#10 — Economical Insurance [2.2 out 5 stars]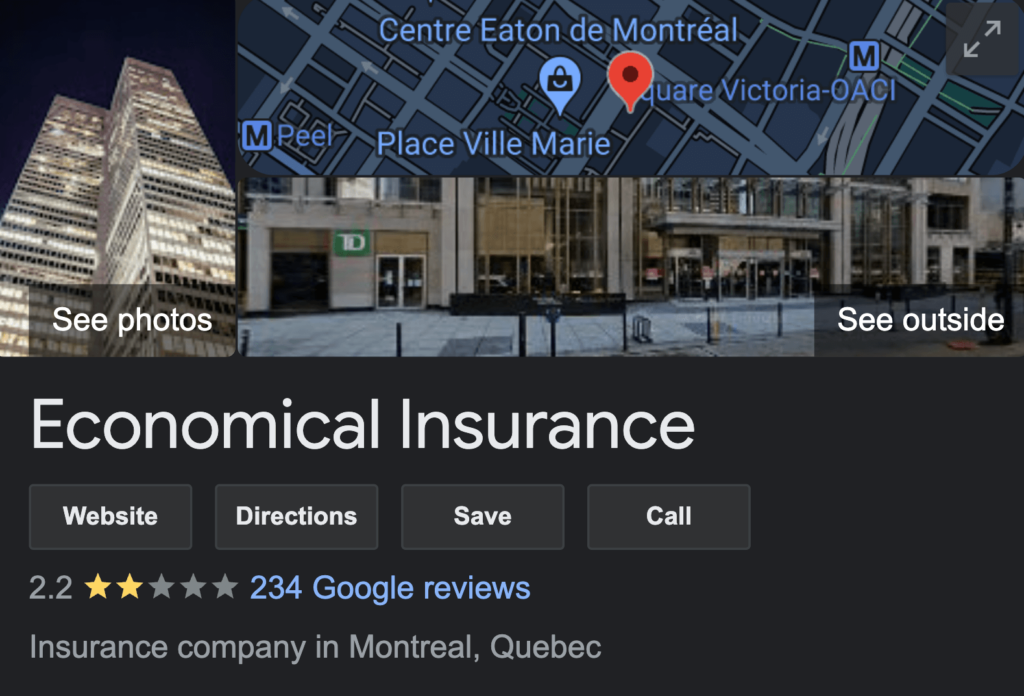 Economical provides home, car, and business insurance throughout Canada.
That's not the greatest rating, but I can provide an inside look since KBD works with them.
They've only recently expanded into Quebec and are still growing in our province.
To do so, they've hired solid expertise, in particular for their claims business.
They continue to improve their process and increase customer satisfaction.
Look for this rating to go up in the next few years.
#11 — TD Insurance [1.5 out 5 stars]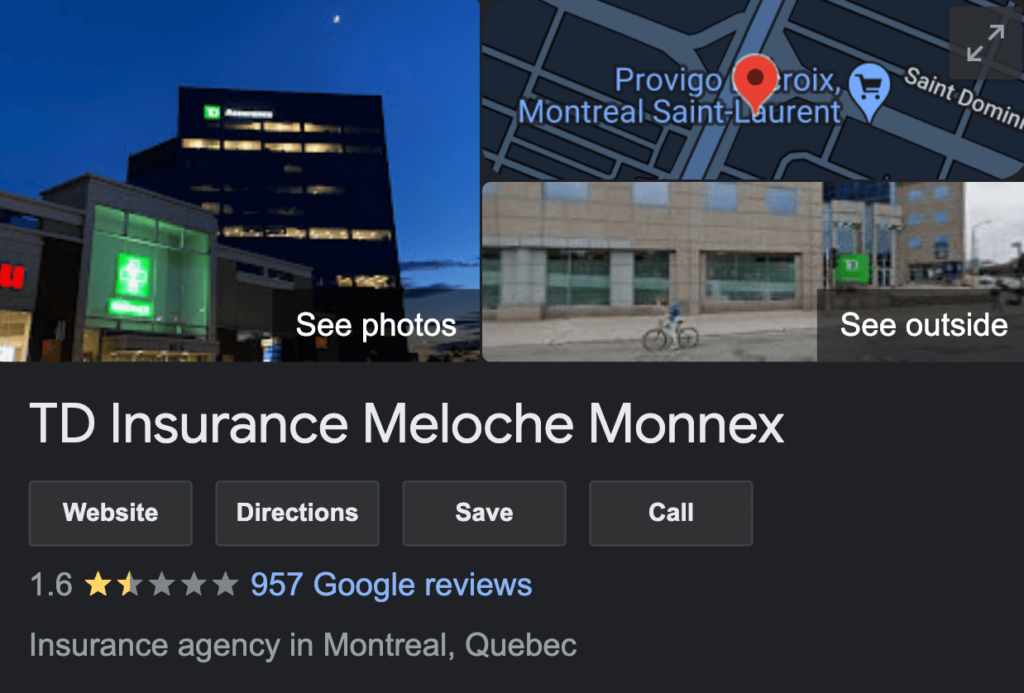 Yeah, not good.
With 957 reviews, this rating is no fluke.
They provide direct insurance and deal in home, car, and rental properties.
Ranking Table for Quebec insurance companies
In Quebec, some insurance companies provide insurance directly, and others use insurance agents known as brokers to sell their policies.
The latter is called a broker insurance company.
The former, not surprisingly, is called a direct insurance company.
What does that mean from a customer's perspective?
As far as the actual insurance product, there's no difference.
That said, the customer service can be a little different.
Direct insurance companies work on a committee basis.
When you call, you can speak to any number of agents at the company.
Plus, you'll have had to make up your mind that you want one of their policies by the time you call.
On the other hand, a broker company has access to any number of different insurance providers which they can place you with.
So, when you call and describe what you're looking for, they can place you with the provider that's best for you.
They do the leg work, and will shop around and find you the best rate.
| | | |
| --- | --- | --- |
| Insurance Company | Google Ranking | Direct / Broker ? |
| Beneva | 4.7 / 5 | Direct |
| Belair | 4.2 / 5 | Direct |
| L'Unique | 4.1 / 5 | Broker |
| Sonnet | 4.1 / 5 | Direct + 100% online |
| Promutuel | 4.1 / 5 | Broker + Direct |
| Intact | 4.0 / 5 | Broker |
| Co-Operators | 3.8 / 5 | Direct |
| Allstate | 3.5 / 5 | Direct |
| Desjardins | 3.5 / 5 | Direct |
| The Personal | 3.3 / 5 | Direct |
| Industrielle | 3.3 / 5 | Direct |
| CAA Quebec | 2.6 / 5 | Direct |
| Wawanesa | 2.5 / 5 | Broker |
| Economical | 2.2 / 5 | Broker |
| TD Insurance | 1.5 / 5 | Direct |
Best business insurance companies in Quebec
Customer reviews are harder to come by for business insurance providers.
For whatever reason, business insurance customers are less likely to post a review on Google, so there is less data in this sector.
Still, we can give you some options.
For business insurance in Quebec, you can go with any of the following companies already listed above in our Top 15 rankings:
Intact
Desjardins
Beneva
Economical
Promutuel
L'Unique
Co-operators
All state
Or, you can go with one of these insurance providers.
Lloyd's
One of the biggest insurance companies in the world, Lloyd's is based in London, England.
Their business model is unique in the sense that they're known for writing "off-colour" risks.
They'll insure businesses most insurers wouldn't — for example, mining and lumber companies.
CFC Underwriting
CFC is another English insurance company.
These guys specialize in professional liability insurance, cyber liability, and cyber risks.
For any IT-related business, this is the choice.
Learn more about CFC Underwriting
Federated Insurance
The Federated Insurance Company of Canada is headquartered in Winnipeg but is popular among Quebec business owners.
Their specialties: Restaurants, auto dealerships, auto repair shops, construction, and equipment dealers.
Wrap-up
Insurance is a grey area.
So, how do you find the best and cheapest insurance?
You don't.
It's not possible.
You have to understand that every company has a different appetite for risk and every customer has a different risk profile.
Rather than finding the best and cheapest insurance company in Quebec, you have to look for the best and cheapest insurance FOR YOU.
So, what can you do?
First, figure out what other people are saying.
Google Reviews are a great tool for that, and that's why we've based our rankings off of them.
Now that you have that knowledge, it's time to shop around.
Call as many insurance companies as you have the patience for.
Collect quotes.
OR, call an insurance broker like KBD and we can do the shopping for you.
Whatever you do, just remember: There's no black and white here.