You want Economical Insurance — what do you do? Find a broker. 🔎
That's the only way to get Economical insurance in Montreal and/or Quebec, plain and simple.
The Canadian insurance company provides home, car, and business insurance — and they've been around a long time.
Their business model is such that the company itself doesn't issue insurance to customers.
Rather, it relies on brokers to sell its product.
Makes sense, considering that when Economical was founded 150 years ago, that was the only way insurance was issued.
The broker model is not considered right or wrong — it's just the way some companies choose to do it.
Today's article profiles one of our partners, Economical Insurance.
Here's what we'll cover: 👇
Before we get into the specifics, let's take a broader look at Economical Insurance.
Available
No matter where in Canada you live, you can get access to Economical's coverage.
That's because they provide insurance in every Canadian province.
They do so, as mentioned, using a broker model.
In Quebec, you could snag a policy through an Economical insurance broker like KBD.
Historic
Economical was founded in 1871 😲👇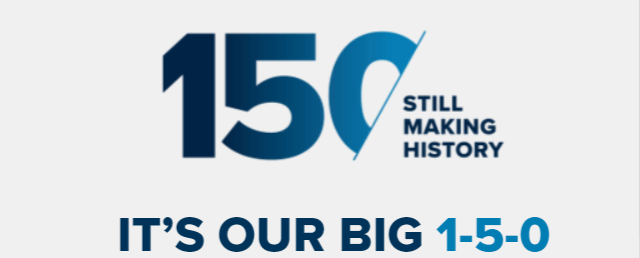 The company is so old, it was started in a town that no longer exists.
That would be the small community of Berlin, Ontario — now known as Kitchener.
It issued its first policy on a house and barn when, according to the company's website, "a group of concerned citizens banded together to help their neighbours during times of hardship and disaster."
Financially Strong
Economical boasts an A-minus (Excellent) financial strength score from the independent rating agency A.M. Best.
In short, the agency's financial strength ratings measure insurance companies' ability to pay claims.
Digital
If you watch hockey on TV, you've probably seen those funny commercials featuring Doug Gilmour, Jonathan Drouin, and more former and current NHLers.
Those ads are for Sonnet Insurance, a fully online insurance provider that is owned by Economical.
Why you have to get Economical through a broker
Brokers are the OG.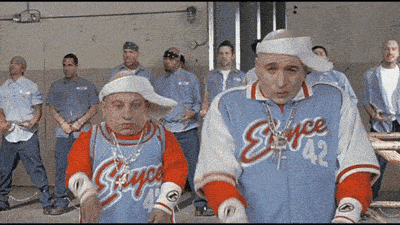 It's true; there haven't always been direct insurance companies like Desjardins.
Going back 50 years or so, Canadian insurance brokers issued insurance exclusively and each one represented upwards of 20 or 25 different companies.
This was a world where everyone purchased their insurance through a broker like KBD.
Today, the landscape looks much different — but more on that later.
Still, the broker model lives on and when a company chooses to issue their product through brokers, that means going through a broker is the only way.
It's not more expensive, and it's not less expensive.
It's not right, it's not wrong.
It's just a way of doing business.
If you're looking for Economical insurance in Montreal, you can hit up KBD.
We're proud to be an Economical insurance broker.
If you're not feeling us, you can simply visit Economical's website and pump in your postal code on the homepage.
They'll serve you with a comprehensive list of brokers near you that can issue their insurance.
You'll see our name on that list.
Does Economical have home insurance?
Yes they do !
Economical provides home, tenant and condo insurance to Quebecers and Canadians through KBD and a host of other brokers.
You can get an Economical home insurance quote online, just not directly through their website.
If you're already on their website, just visit the home insurance page (under Insurance, then Personal Insurance) and again type in your postal code.
They'll redirect you to the closest brokers to you, and you can consult the map to see where exactly each one is located.
If, on the other hand, you're on KBD's website and want to compare Economical quotes with the other insurance companies, you can do that too.
When you complete an online quote with us, we automatically provide quotes from three companies: Intact, L'Unique, and of course, Economical.
Does Economical have car insurance?
They sure do ! 🚗
Economical provides the same type of car insurance coverage as every other Quebec car insurance provider.
What they don't offer is telematics, the app-based car insurance system that tracks how you drive to determine your cost of insurance.
Intact's my Drive program is an example.
For you thrill-seekers out there, Economical can also cover your motorcycle or all-terrain vehicle like a jet ski or snowmobile.
More good news: The average cost of Quebec motorcycle insurance is $202/year, roughly one quarter of the province's average cost of car insurance.
How are Economical's reviews?
We'll be frank: They're not good.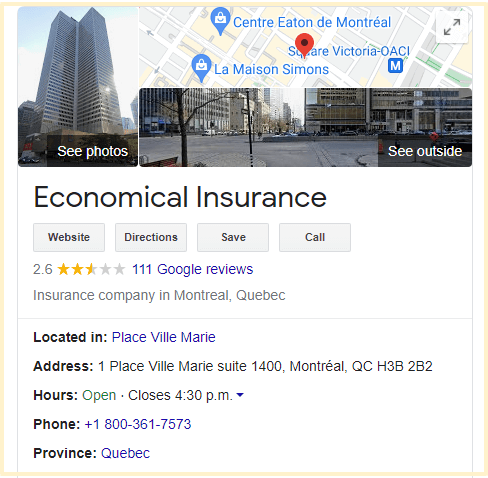 You can't deny that 2.6 stars out of 5 is not what you're looking for.
But there's reason to be optimistic.
When you read through their reviews, claims service stands out as a main issue.
And that's an important part of the business.
But here's why we're not shying away from them.
First of all, Economical is much bigger in Ontario than Quebec.
And they're now making a big push in Quebec and are growing fast in our province.
With any ramp-up, there are sure to be growing pains, and that's what we're witnessing with Economical and its lack of organization with customer claims.
Economical is a proud partner of ours, so we know them well.
And we know that they're aware of their shortcomings and are working aggressively to make improvements.
For starters, they've hired several highly experienced people with claims backgrounds.
Knowing all that, we're confident their claims experience will continue to improve, and with it so will their reviews.
Wrap-up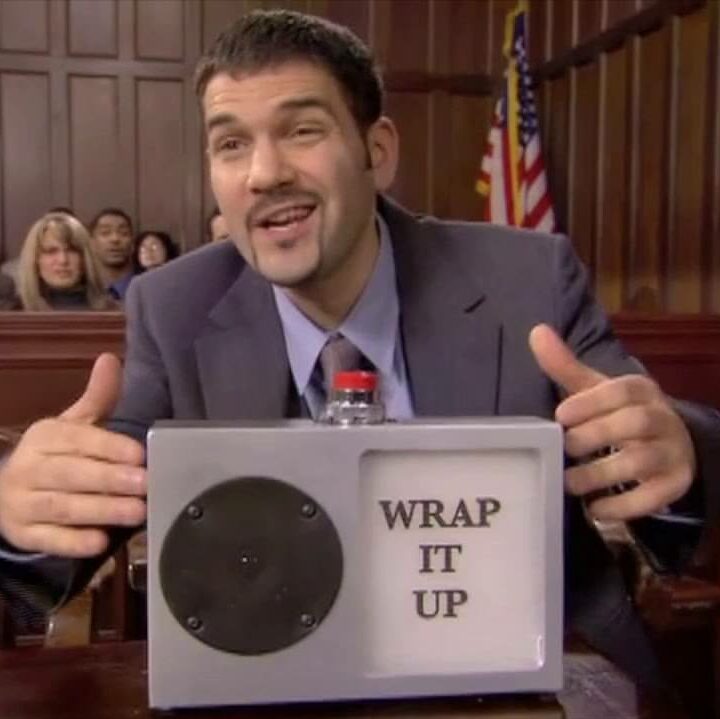 We've given you a fair assessment of Economical Insurance — the good, the bad, and the improving.
If you're looking to purchase insurance through a broker in Montreal or Quebec, Economical is one of the companies you could land with.
And we wouldn't shy away if that's where you can get the best deal.
The list of insurance companies you can get through a broker is not long: 👇
Intact
Economical
L'Unique
Aviva
Promutuel
Optimum
If we look in our crystal ball 🔮, we can see this list shrinking even more.
Already, acquisitions have led to consolidation in the industry.
Just recently, Intact bought Royal Sun Alliance (RSA), taking another name off that list.
I wouldn't be surprised if in two years there are just four such insurance companies in Quebec.
For context, just 10 years ago there were about 20.
All that to say, we think Economical is on the rise in Quebec 📈 .
It's in strong financial standing and is aggressively pursuing talent, positioning itself well to remain on that list for years to come.