So, you've heard good things about CFC Underwriting's commercial insurance, and you want to know how to get it.
Three words for you: Through a broker.
That's it.
That's the only way.
As is the case with insurance companies using a broker model, CFC doesn't sell directly to consumers.
Instead they work with insurance brokers like KBD throughout Canada and around the world.
So if you want CFC Underwriting insurance in Canada, step one is to find a broker they work with.
The other thing to know is that CFC Underwriting deals in commercial insurance specifically.
They don't do home, car, condo, motorcycle, or any other type of insurance you can name.
They're a B2B insurance provider, meaning they work strictly with businesses.
Now technically, CFC Underwriting is NOT an insurance company.
They're an MGA — a managing general agent.
That means they're specialized and have increased authority over what they can administer and negotiate on behalf of insurance companies.
But more on that later.
This MGA bit shouldn't concern you.
If it's corporate insurance you seek, you can work with CFC Underwriting.
For all intents and purposes, consider them an insurance company.
(CFC. B2B. KBD. MGA. Enough acronyms for you?)
Within the business insurance world, CFC's strengths are even more specialized.
Their bread 🍞 and butter 🧈 is cyber insurance and professional liability insurance for the tech industry.
Speaking of bread and butter, it might be a good time to grab a snack and settle into the rest of this blog.
Here's what we'll be chewing on today.
CFC Underwriting by the numbers
They're based in London (the British one), but they have offices in the U.S. and Europe and work with brokers all over.
They are currently one of the largest MGAs in the world.
Fun fact: CFC stands for ClickForCover.com, their original company name.
Back in the 1990s, they were one of the first companies in the world to sell cyber insurance online!
Disclaimer: We provide the vast majority of our cyber and professional liability insurance policies through CFC.
We ARE NOT, however, being paid to write this blog post.
What insurance does CFC specialize in?
CFC Underwriting specializes in insurance for cyber security and tech insurance for IT consultants. That's their forte.
They also provide:
Commercial general liability (CGL)
Commercial property
Professional liability
Management liability
And more!
These are the industries they serve:
Tech
Financial institutions
eHealth
Healthcare
Life science
Manufacturing
Media and entertainment
Construction
Is CFC Underwriting an MGA?
They look like an insurance company.
They smell like an insurance company.
They act like an insurance company.
But they're actually NOT an insurance company.
Not technically anyways.
They're an MGA — a managing general agent.
That means they're a middleman between insurance companies and brokers.
But aren't brokers usually the middleman between the insurance company and me the client?
Yes.
You could say MGAs are the middlemen of middlemen.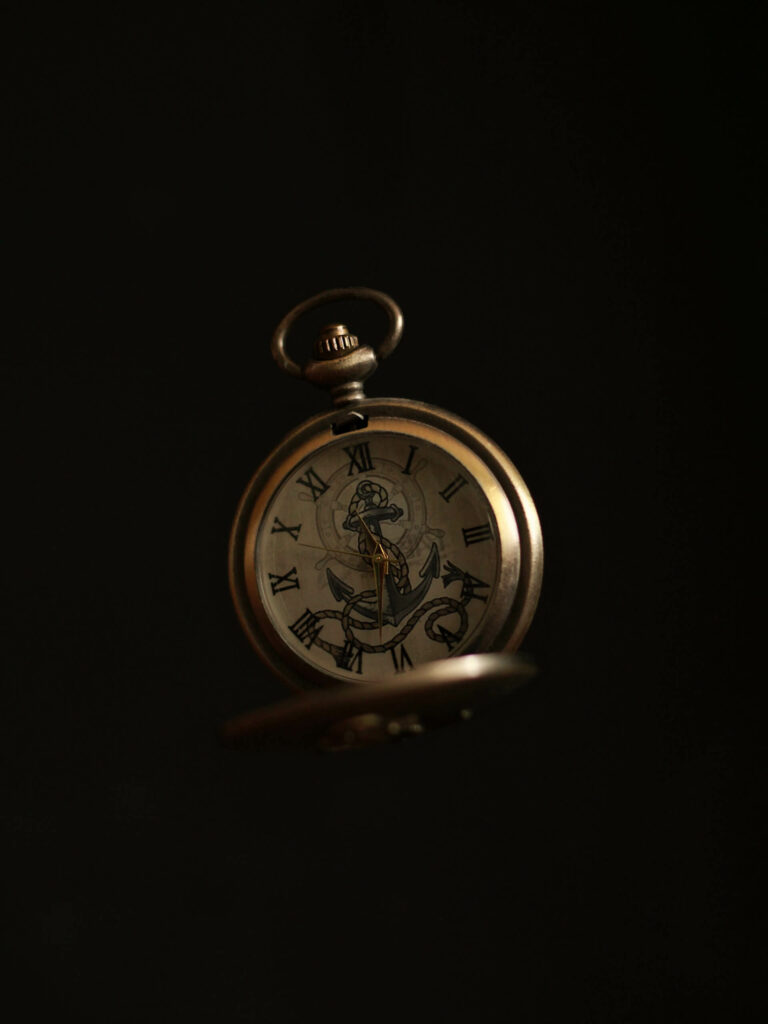 Here's a good definition from IRMI:
"Managing General Agent (MGA) — a specialized type of insurance agent/broker that, unlike traditional agents/brokers, is vested with underwriting authority from an insurer. Accordingly, MGAs perform certain functions ordinarily handled only by insurers, such as binding coverage, underwriting and pricing, appointing retail agents within a particular area, and settling claims."
Here's our KBD-approved simplified definition: An MGA underwrites the policy on behalf of the insurance company.
And they promote the insurance company's product.
Here's how the relationship looks in practice:
Insurance company ➡️ MGA ➡️ Broker ➡️ Customer
Another way to look at it using specific companies:
Lloyd's ➡️ CFC Underwriting ➡️ KBD ➡️ Policy holder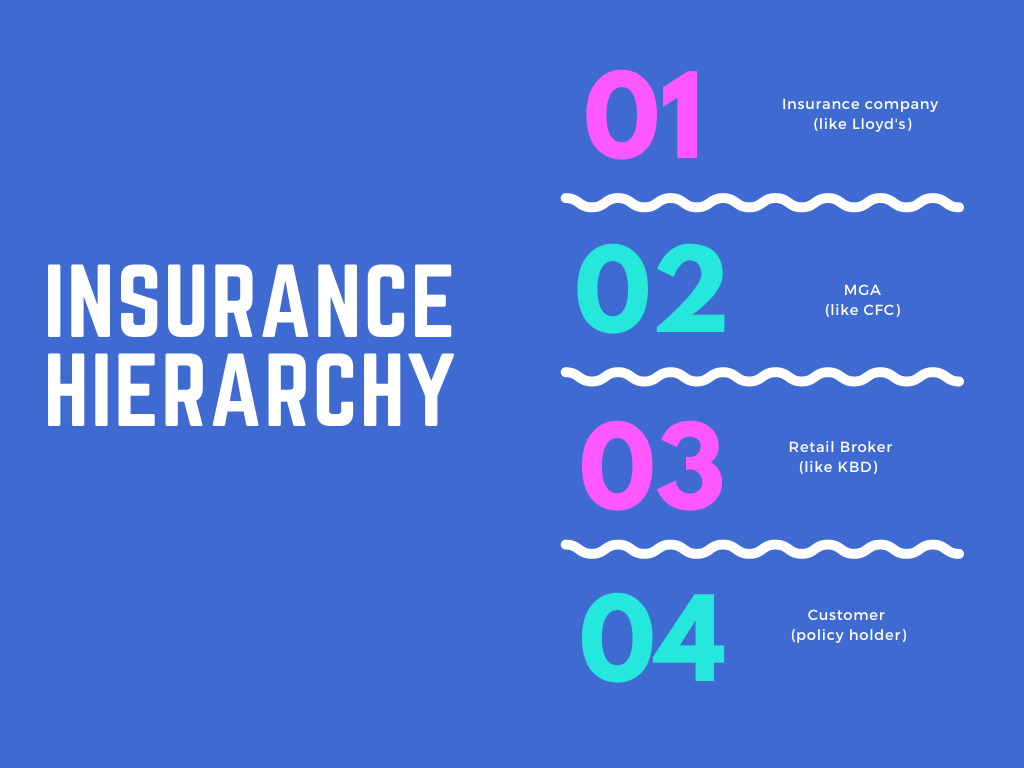 If you want to get really technical, CFC Underwriting is in fact both an MGA and an insurance company.
🤯
If you're not in the insurance industry, you probably won't understand this.
If you are and you want to read more about it, check out this article written by CFC.
Who backs CFC Underwriting?
Lloyd's of London.
CFC Underwriting places all of their customer's policies through Lloyd's.
End of story.
Lloyd's is a British insurance market, meaning they're not quite an insurance company either.
The way they — you know what, nevermind.
This is a conversation for another day.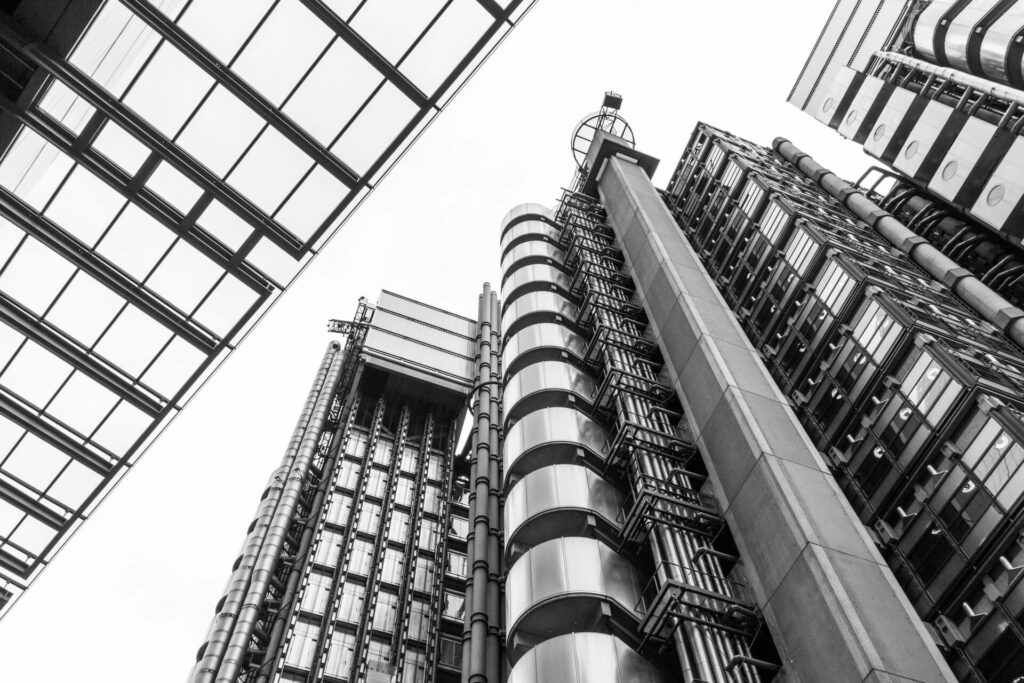 Bottom line: CFC Underwriting can write you a commercial insurance policy for Lloyd's insurance.
Learn more about how the Lloyd's insurance market works 👉
Wrap-up
The folks at CFC Underwriting are cyber insurance specialists.
They've been doing it basically since cyber insurance was even a thing.
When you need business insurance and you're a tech company, you go to them.
Are they an MGA, an insurance company, or a broker? That stuff shouldn't even concern you.
Through a broker like KBD, you can obtain a commercial insurance policy from CFC Underwriting.
That's their bread and butter.
Done your snack yet? 🤤