When you work with people's homes, mistakes can be costly.
As a general contractor, you need business insurance to make sure those expensive mistakes don't cost you your company.
If you're established in the field — or if you've read any of our blog posts — you know that already.
But do you know which other coverages you can benefit from as a contractor?
That's what we'll tell you in the following paragraphs.
What is Commercial General Liability Insurance?
A commercial general liability insurance policy, or CGL, covers your business in the event that it causes property damage or bodily injury to a third-party, be it an object or a person.
All businesses need a CGL policy.
At KBD, we've seen up close how having the right policy can save a contractor's business — and how working without one can ruin you.
The best way to demonstrate that fine line is with a real life example that we've dealt with.
Hang on tight — this one's a nail biter!
The importance of business liability insurance
One October, a general contractor client of ours was doing a home renovation.
On this particular day, during work on the roof membrane, it started to rain heavily.
So our client laid a tarp over the unfinished roof and took cover.
While unattended, the tarp came undone, exposing the inside of the home for two hours and wetting and warping some wood, which was immediately damaged and needed to be replaced.
Do you think the contractor had to pay for the damages?
In this case, the specifics of what the contractor touched are important.
As a general contractor in Quebec, you need a permit issued by the Regie du Batiment du Quebec (RBQ) that specifies exactly what jobs you can and can't legally do.
This particular contractor was qualified to work on a roof membrane, but would not have been for roof shingles.
And that matters, because insurance companies won't cover you for work that's outside your RBQ license.
Important: Always stay within your RBQ permit.
When it came to dealing with the water damage accident, the first question the insurance claims adjuster asked KBD was this:
"Was the client working within their RBQ permit?"
In other words, were they doing work they were authorized to do based on their government issued license.
In this case, thankfully, the answer was yes.
And because they were working within their permit, our client, the general contractor, avoided a hefty bill.
If the answer here had been no, our client would have been left without insurance coverage and stuck paying $100,000 out of their pocket.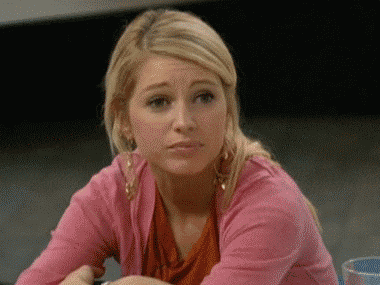 What Insurance Coverage do I Need as a General Contractor?
Commercial insurance coverage is multi-faceted.
Depending on the type of work you do, these are the products your contractors insurance policy might need to include:
CGL: Protects your business against property damage or bodily injury to a third-party.
Tool floater: Reimburses you for stolen tools, regardless of location.
Whereas contents insurance covers your stuff at one specific location, a tool floater includes the job site, your office, your home, or anywhere else.
Errors & Omissions: Covers service-level mistakes.
E&O works for businesses that provide intangible value, where a mistake could cause financial harm.
For example, you employ engineers that create designs for clients.
Installation floater: Covers your materials while you're in the process of building.
Say you buy wood to install a deck, but the wood is stolen or damaged before job completion and therefore not covered by the client's home insurance policy, this pays you back.
Builder's risk: Covers the whole project from start to finish.
It's similar to an installation floater, but for larger projects where you as the contractor assumes lots of risk.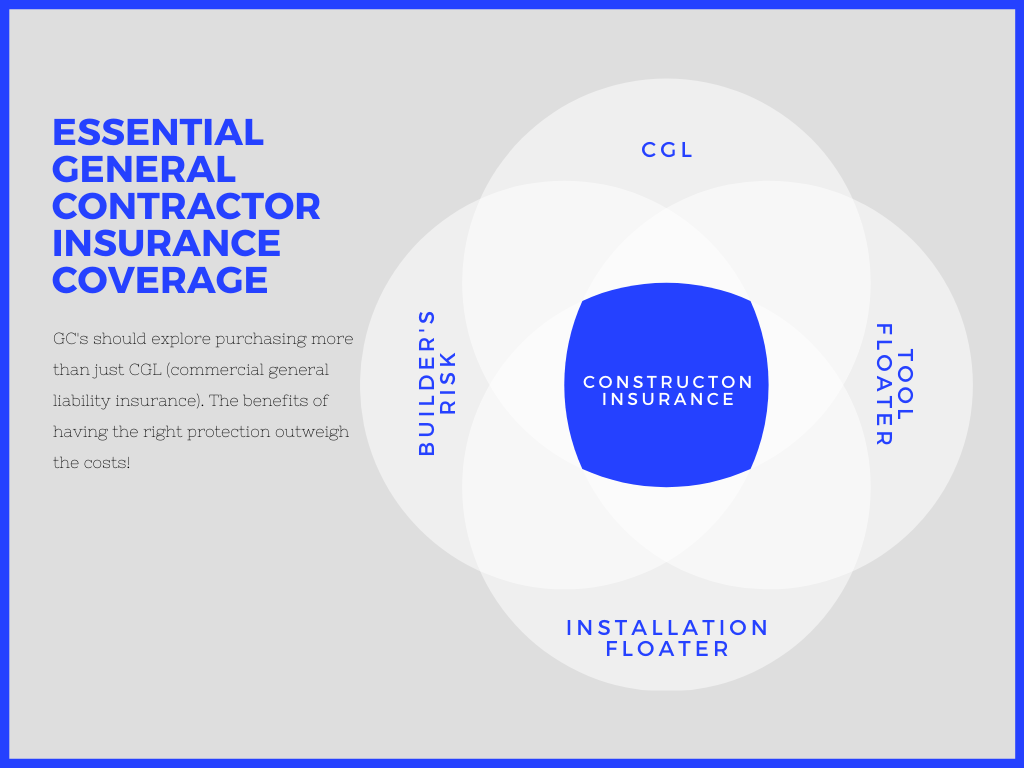 Learn more about insurance products for general contractors, including performance and bid bonds.
Select the Right General Liability Coverage for Your Business
Due diligence is required in ensuring you choose the right contractors insurance coverage for your business.
In order to do that, it's best to collaborate with an insurance broker that understands your business.
For many commercial jobs, contractors are required to carry CGL insurance before even stepping on the job site.
Standard protocol calls for a minimum of $2 million in coverage, but sometimes that jumps to $5 million.
Depending on the type of work you do, you'd be wise to add one or more of the coverages described above.
Pro tip: When you work with sub-contractors, it's crucial that you verify they carry their own construction insurance policy before you work with them.
If they don't and they make a mistake, it falls on you to cover the damage.
The more that happens, the higher your premium and your risk profile raise.
Wrap-up
Two key takeaways:
Get the right contractors insurance coverage
Always work within your RBQ permit.
If you do those two things, you'll avoid some costly mistakes.
If not?
You might just get caught in the rain with an unhappy client and a big bill headed your way.