As COVID-19 has evolved these past few months, it has caused significant economic damage and placed strain on the Canadian healthcare system.
It's also left many people worried about their job security – and rightly so.
If this world crisis has forced you to consider alternative career options as a result of bleak economic realities of a post-pandemic world, or if you are just looking for newer, better job opportunities, this blog is for you.
"Nobody ever plans on working in insurance"
Students are generally encouraged to pursue careers in accounting, engineering, finance, math, or IT – you know, the STEM fields.
Nobody ever talks about insurance, and that needs to change.
I firmly believe that STEM should, in fact, be called STEMI: Science, Tech, Engineering, Math, and of course, INSURANCE!
You can find some great career opportunities in P & C (property & Casualty) insurance.
This field is also a good option if you are looking for fast upward mobility because most organizations are on the lookout for the next crop of young guns to enter the insurance labour market.
You can shape the future of the industry, which like everything else, will be centered around tech.
We're going to cover the following five reasons you should consider working in insurance:
Let's explore these pointers in depth.
Insurance is a stable industry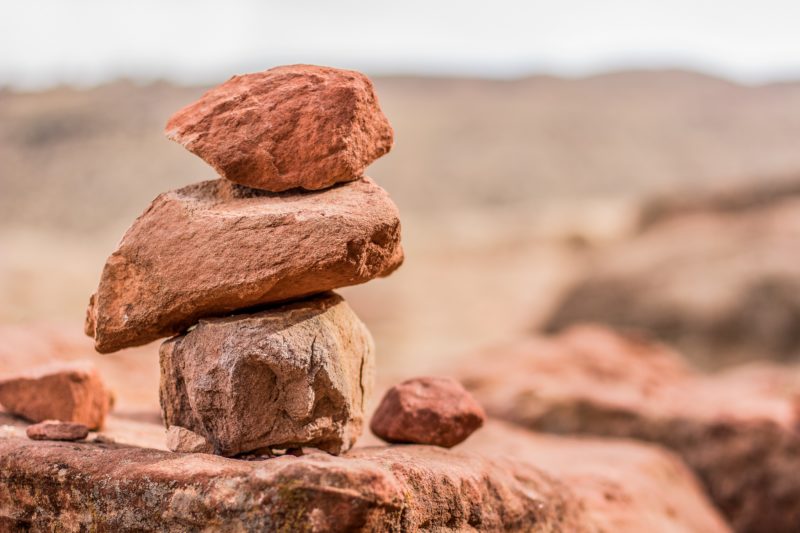 So you can count on getting paid on time – this is more than what many other industries and professions can promise after the COVID-19 pandemic.
It's still too early to tell precisely how many jobs will be lost as a result of the pandemic.
Sectors that have been hit the hardest thus far include:
Hospitality (hotels, bars, restaurants)
Retail
Casinos
Airlines
Events
Millions of people are struggling to save their employment; some economists are predicting that permanent job losses in the US alone will be in the millions as a result of the coronavirus.
Meanwhile, property & casualty insurance industry remains stable – none of the businesses in this niche have reported layoffs now or in the near future.
That's because this industry relies on residual income – once you sell a policy, the revenue continues to come in year after year.
As a commercial insurance broker like KBD, it may take longer to build a reliable revenue stream, but once you've established your clientele, you'll have a steady and constant flow of income to rely on.
Besides, the fact of the matter is that people & businesses will always need insurance, so your job is only going to become more secure in such trying times.
Insurance is an employee's market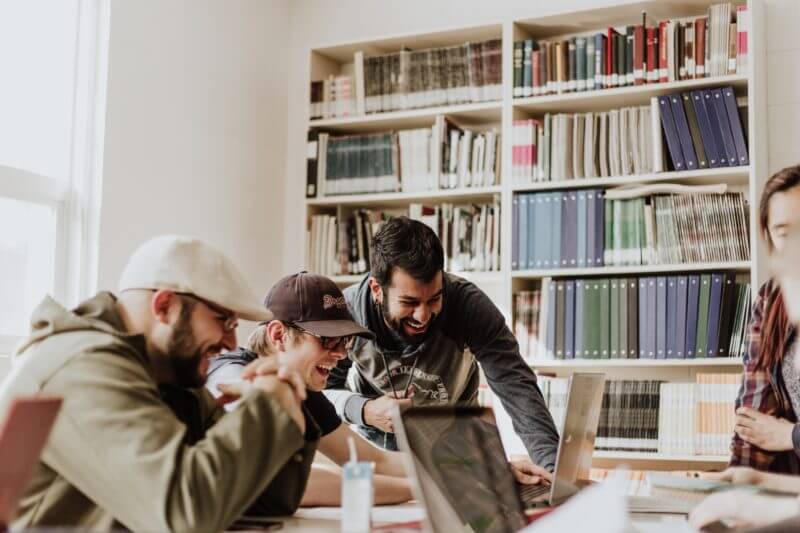 Have you ever heard someone say, "It's an employee's market right now"?
Well, not many industries can claim to be an employee's market, but those of us in insurance know this to be true.
An employee's market means that job applicants & employees have the upper hand in labour negotiations.
Typically in a job interview, it's the candidate's job to convince the employer why they should be hired.
In property & casualty insurance, it's the other way around!
Every interview KBD Insurance has conducted over the past three years has been us trying to convince the candidate why they should work at our company.
Instead of me asking questions like "Why do you want to be a small business insurance broker in Montreal?" I'm making statements like "These are our employee benefits; this is your paid time off & this is how cool our staff is."
The insurance industry lacks "change maker" talent
"Yah, yah, yah, we've heard that one before. Every company needs individuals that want to make a difference."
But in all seriousness, the P & C industry needs them desperately because this industry has been ruled by the older generations for much too long.
As of 2018, millennials surprisingly made up the majority of the workforce at 39% of the P & C industry while boomers made up 28% of the workforce.
However, in an industry-wide study conducted by the Insurance Institute of Canada, they found that by 2027, 27% of the P & C industry is expected to retire.
In management occupations, 36% will also step down by the same date – resulting in noticeable gaps in experience & talent that are already starting to appear.
Furthermore, for every 100 employees over the age of 55, the P & C industry only employs 73 workers under the age of 30.
To put this into perspective, the average business sector in Canada employs 103 workers under 30 for every 100 workers over 55.
So, what does this data mean?
It means that people are leaving the industry faster than they are entering – commonly referred to as the "entry-to-exit" ratio.
The P & C (property & casualty) industry is looking for millennials and younger individuals to support the expansion and grow into management roles.
They must be willing to work their way up, so they develop the necessary experience and expertise in the industry.
An entry-to-exit ration that's equal to or higher than 1:1 is necessary to sustain insurance organizations in growth mode.
Organizations like the IBAO (Insurance Brokers Association of Ontario) have done an excellent job in helping to promote the insurance broker network.
In fact, they just came out with a video marketing campaign with the catchy call-to-action phrase "you should totally become a broker. "
Commercial insurance is interesting – and evolving.
One of the most appealing aspects of working here is that there is never a dull day. Here are some interesting facts about insurance:
The demographics are changing
People usually roll their eyes when I say that "insurance is interesting" because it is viewed as slow & conservative and for good reason.
When you think of insurance, you probably think of an old white male in his 60's wearing a suit and tie.
When in reality, if we look at the demographics of the industry today, the "face" of insurance would be a 42-year old woman. Also, the average age of professionals is trending downward.
Commercial insurance Montreal is targeting interesting new industries
What about the types of industries we can insure?
25 years ago, the manufacturing, hospitality, and distribution in Montreal were growing at a lightning-fast pace.
Today, it's tech.
According to The Vancouver Sun, Montreal has become one of the top Tech cities in Canada in terms of growth and employment opportunities.
So, what does this mean for the P & C industry?
Well, commercial brokers & insurance companies will be insuring more tech companies than ever before, and that's why they'll need a younger workforce that understands how tech works.
For the most part, insurance "boomers" who are approaching retirement do not understand the intricacies of the tech industry even though the reality is that tech is here & it is growing… fast.
Start-up insurance is one of my favorite parts of working in P & C.
Providing a business insurance quote to a tech start-up is awesome; it's generally completed face-to-face, and you also get to work with them as their business expands.
As they grow, you grow; their premium becomes more expensive as a result of increased sales or different product exposures, which means more revenue for you, the commercial insurance broker.
The average business insurance quote at KBD is for tech start-ups with fewer than ten employees.
In fact, we've built an entire department around small business insurance, Montreal.
Insurance lags in technology adoption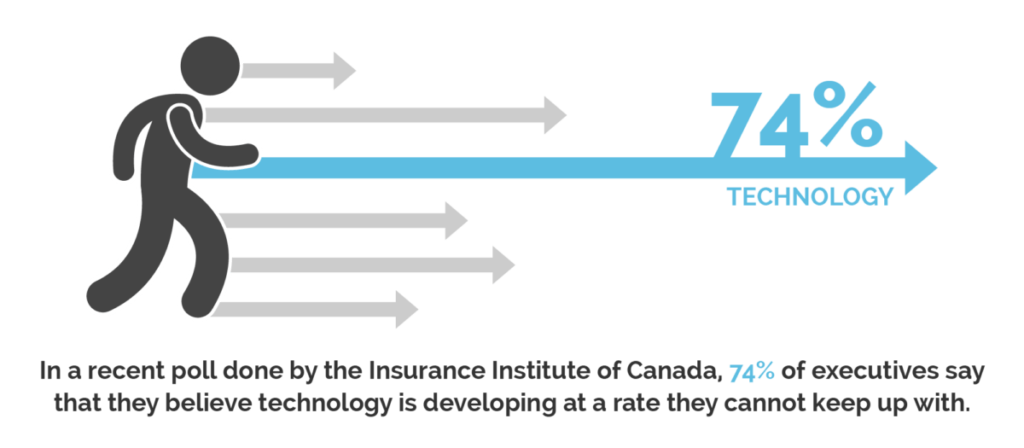 When an industry lags behind in "X," what happens?
The companies within the niche tend to go on hiring sprees so that they can have a competitive advantage in "X".
For the insurance industry, X = technology.
In a recent poll done by the Insurance Institute of Canada, 74% of executives say that they can't keep pace with the rate of growth in technology.
This is great news because there is so much work to be done, but companies that don't invest in new technology are going to be left behind.
This means that if you can write code or have digital marketing skills, top insurance employers are looking for you.
Insurance companies like Intact are already investing heavily in technology. According to the Indeed Blog, Intact was in the top 15 companies in all of Canada for hiring tech workers; they were up there with Amazon!

Competitors will adapt and follow the trend or risk being left behind. Technology may replace existing insurance jobs but will also create new ones.
A final word why you should consider working as a commercial insurance broker
The world is uncertain about where it's headed as people from all over the world continue to deal with the aftermath of a dangerous pandemic.
But as the saying goes, adversity creates opportunity.
Now it is more important than ever that we ensure the continuity of our jobs and build sustainable careers that can outlast the hard times.
That's why I urge you to consider the top reasons for working in insurance as a business insurance broker, claims adjuster, underwriter, or directly for an insurance company like Intact.
Remember, insurance is underdeveloped in terms of tech adoption, which means they need talent.
Executives & managers are retiring, so companies will need better leadership and change-makers to help them survive.
And of course, the industry is stable even during difficult economic circumstances – this fact alone should make it your top pick if you are looking for a career change.
At KBD Insurance, we are insurance brokers for small businesses as well as cars, homes, tenants & condos.
We are continually seeking new talent, and we need people who can make a difference and help shape the industry!
If you think you have what it takes to make the insurance industry more dynamic and bring it up to date with the latest in tech, we'd love to hear from you.