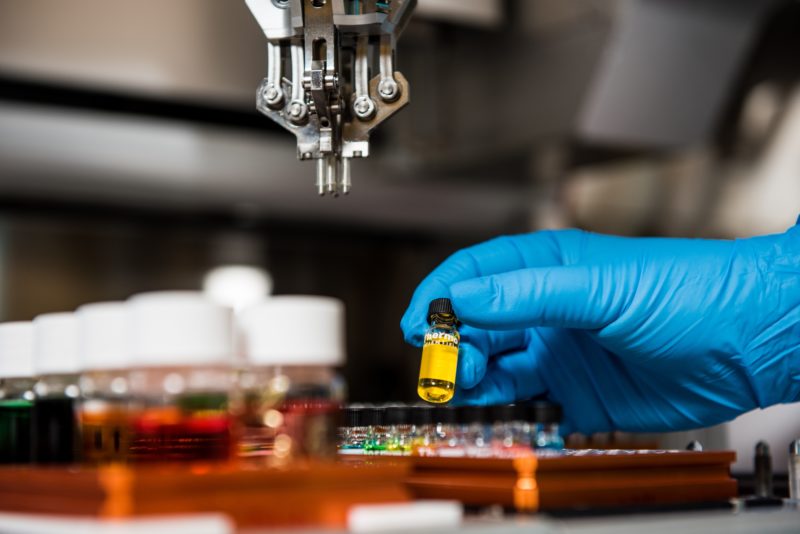 Both my grandfather and my father were business insurance brokers, so needless to say, I've been around insurance all my life.
As a young child, I remember picking my dad's brain after coming home from a long day at work. I found the insurance business fascinating.
He built a business from the ground up back in the '90s, and 80% of his clients were manufacturers.
He insured companies in pharmaceuticals, metal, plastics, wood… you name it.
Over the years, his experience, and my interest allowed me to absorb the knowledge he'd gained about business insurance, especially in manufacturing.
Fast forward to now and KBD insures dozens of manufacturing companies around Montreal.
We've dealt with claims, and we've advised on how to improve quality control to help lower business insurance costs.
(More on this later).
With my qualifications now out there, let's look at some real risk management strategies for your manufacturing company.
Definition of manufacturing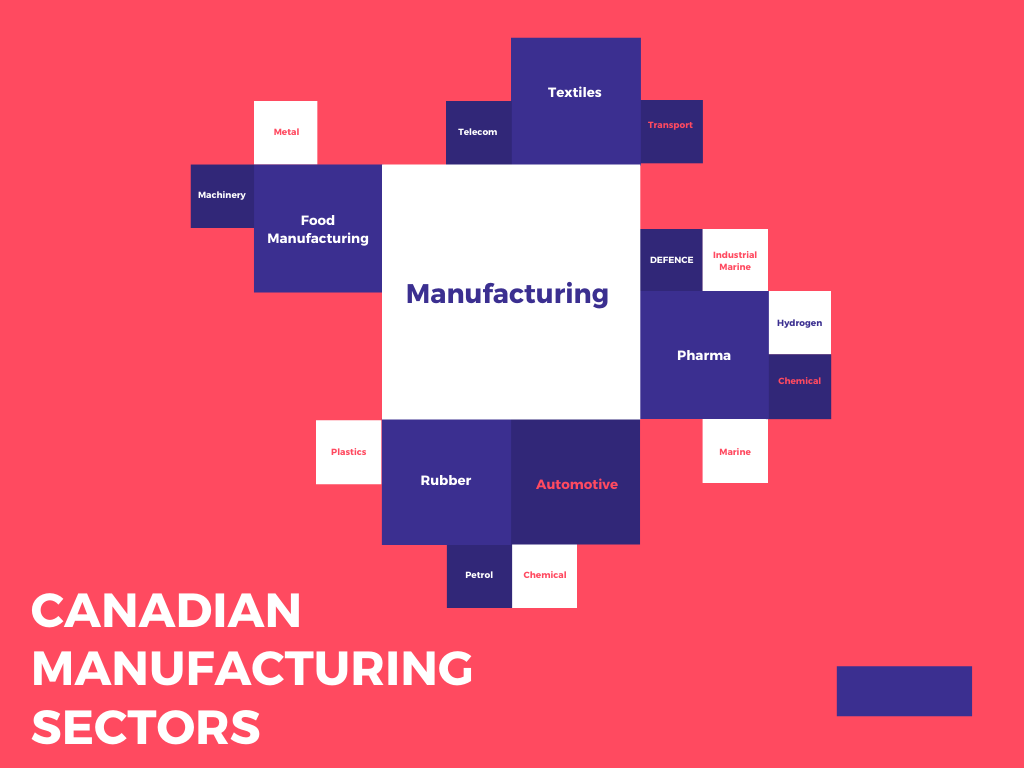 What's the first thing that comes to mind when you think of the word "manufacturing?"
You probably picture a metal shop with a bunch of employees working tirelessly to produce a product.
While metal shops are certainly considered as manufacturers, the definition is much broader.
Manufacturing is the process of taking raw materials and building them into a product that adds customer value.
It needs to solve a problem.
This is why the industry is made up of multiple subsections; it's trying to solve multiple problems!
Automotive, chemical, medical device, marine, space, textiles…
These are all sub-sections that make up the manufacturing industry in Canada, which accounts for 10% of our economy.
Protect your manufacturing company with the right business insurance policy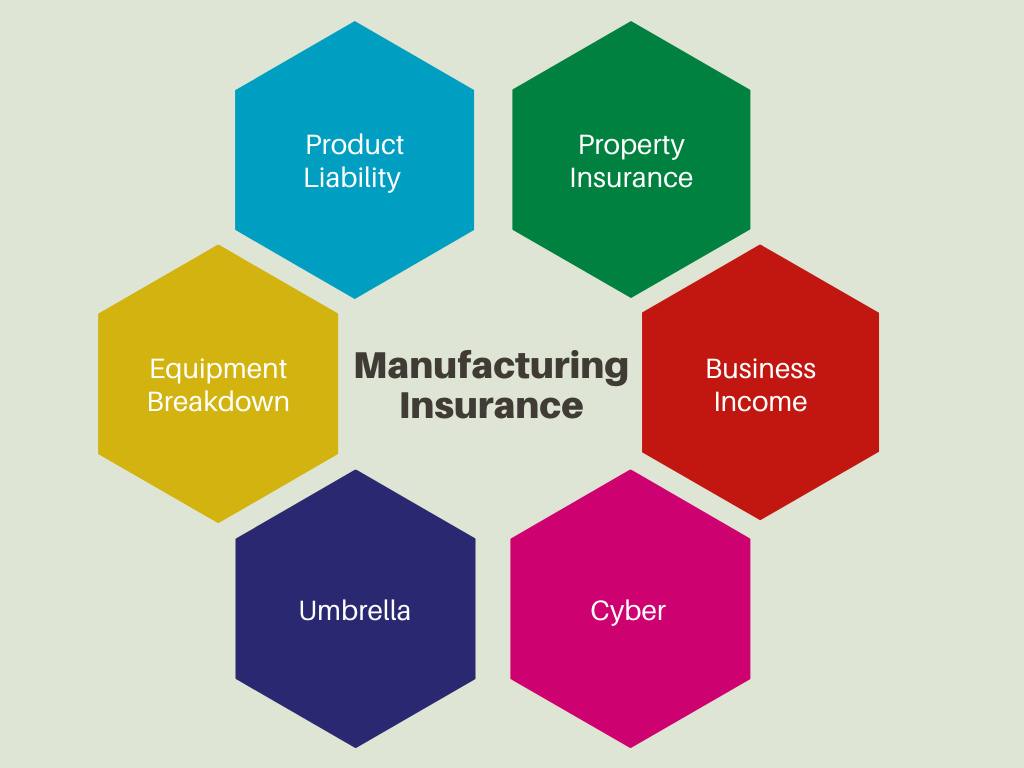 As mentioned above, manufacturing can be split up into multiple sub-sections.
Each category fabricates a different product, but they all require the same type of insurance.
Commercial general liability insurance
CGL covers your business for product liability; if the product you make causes harm to another person or business, your company can be sued.
For example, if you're a garage door manufacturer and you make the motor that opens and closes the door. One of your motors is defective, and it's responsible for closing a garage door onto a child.
Product liability would pay your defense costs as well as your penalty costs for injuring the child.
Commercial property insurance
Business property insurance works the same way as home insurance; it covers your existing structure against fire, flood, earthquake, etc.
Your building insurance cost is directly proportional to the value of your building.
In other words, the higher the building evaluation, the more expensive your business insurance policy will be.
Equipment breakdown insurance
Insurance for mechanical failure, electrical arching and boiler explosion.
The main exposure for a manufacturer is mechanical failure, and here's why equipment breakdown insurance is important:
Let's say you're a printer.
You have large, specialized printing machines.
In each machine contains multiple custom parts; you can't buy these parts at the local Home Depot.
One day, your printer stops working because the custom part breaks.
This is how the scenario would play out.
You would look to order the custom part… but from where?
From a local manufacturer? Does the part need to be made in Japan or China?
How long is it going to take to receive this part?
1 week? 2 months?
We can agree that the machine has broken down as a result of mechanical failure, but that's not what is going to be expensive.
What is going to be expensive for your business is the opportunity cost.
Your machine cannot operate without the custom part.
Which means you're losing revenue and profit.
Equipment breakdown insurance will pay for the cost of the custom part AND your lost profits.
This is extremely important coverage for all manufacturers.
Business income interruption insurance
In the event of a claim, business income insurance covers your company for lost profits, administrative payroll and fixed costs.
For example, if a fire damages your company and you are forced to shut down for 6 months, business interruption will keep the profits rolling in even if you are unable to sell product.
Umbrella insurance
Umbrella policies are built for companies with large manufacturing operations with high annual revenue and who sell to the USA.
This is also referred to as "commercial excess liability insurance."
Umbrella insurance provides your manufacturing company with extra product liability coverage.
In other words, it's liability coverage over and above your existing CGL amount.
Most manufacturers in Quebec have between $1,000,000 and $5,000,000 in liability insurance.
An umbrella policy would increase that limit to an amount of your choice.
Cyber Insurance
As a manufacturer, you design products and then you fabricate them.
There can be a lot of back and forth between you and the buyer when developing a prototype.
What would happen if your prototype designs were erased as a result of a cyber attack?
Or what would happen if your CNC machine was no longer functional after a malware attack?
Cyber insurance will cover you for both scenarios and more.
The average cost of manufacturers business insurance
There's no one-size-fits-all when it comes to manufacturer insurance.
It depends on how much insurance you purchase, what products you fabricate as well as your annual revenue.
Here's an example: a plastic manufacturer pays more for property insurance than a metal shop.
Why?
Because plastic is flammable, so the chances of fire are higher.
On the flip side, if the metal worker produces medical devices uses by optometrists for eye surgery, they will pay more for liability insurance.
Why?
Because these medical devices could cause harm to a patient during surgery.
Manufacturers can pay as little as $2,500 / year if they sell locally and as high as millions of dollars if they sell internationally.
The average premium for manufacturing clients at KBD insurance is $3,500.
How to lower your manufacturers business insurance
The best tip I can give as a commercial insurance broker to lower your business insurance cost is to focus on quality control.
Develop a workflow that is consistent every time.
A great way to do this is to become ISO 9001 certified.
ISO Quality Services Ltd. states "this certification means you develop a consistent way of doing things which ensure that your product meets your customer's needs."
Having the right quality control in place can also prevent product liability claims.
As your operation grows, your liability exposure increases because more people buy your product.
The more people that buy your product, the higher chance it can cause damage to a third-party.
Being ISO certified helps identify and address risk as you grow, decrease overhead, as well as increase operational efficiency.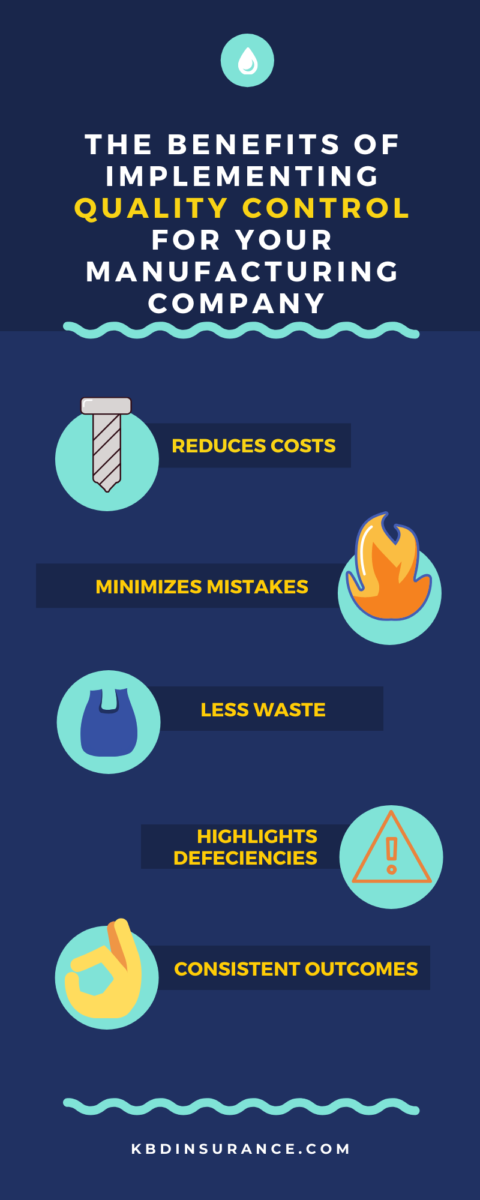 A final word on your manufacturing business insurance policy
KBD has been fortunate to have a commercial insurance broker share his 35 years of experience in risk management for manufacturers.
This experience is the main reason why our brokerage provides customer value to the industry.
While manufacturers come in all shapes and sizes, they all require the same type of insurance.
Product liability insurance
Property insurance
Equipment breakdown insurance
Business income insurance
Umbrella insurance
Cyber insurance
If you were to take away one piece of advice from this blog, it would be the following:
Develop a quality control program.
Being ISO 9001 certified will help increase productivity and streamline your workflow.
It will also lower your commercial insurance cost.
If you'd like to find out more, get in touch with us today at 514-636-0002.