The average cost of car insurance in Ontario is around $1400 in 2023.
That might seem high, and it is – Ontario has the second highest car insurance rates in Canada, just after BC.
But if you're an Ontario resident, there's still hope for you to get a lower car insurance rate.
The price of your car insurance is affected by factors like your driving and claims history, age, gender, location, and the model of your car.
So, we make no guarantees, but if you play your cards right (or at least make a few adjustments), you could pay significantly less than $1400.
In this blog we're giving you an overview of average car insurance costs in Ontario based on top influencing factors, so that you can plan ahead, and potentially save a few bucks.
Jump ahead for the juicy deets:
How much is car insurance in Ontario?
The average cost of car insurance in Ontario is around $1400, which is the second highest rate in Canada after British Columbia.
But your personal car insurance premiums could be much lower or higher based on the following factors:
Your driving history
Your insurance claims history
Your location
Your age & gender
The make & model of your car
Car usage & how often you drive
Since car insurance costs are determined on a case by case basis, getting a quote is your best bet to find out exactly how much you can expect to pay.
If you're ready for a quote, give the KBD Ontario insurance broker team a call.
How much is car insurance in Ontario per month?
If you're new to Ontario, or getting car insurance for the first time, you can expect your average monthly car insurance payments to be around $120 per month.
But remember, that's just an average.
Your car insurance premium is determined based on your personal situation.
So if you have a squeaky clean file, no claims history, and a perfect driving record, it will reduce your car insurance rate.
On the other hand, if you drive a high risk vehicle, get into frequent accidents, and fit into a younger age bracket, get ready to pay some big money on your average monthly car insurance payments in Ontario.
What's the average car insurance cost in Ontario by age?
You might've heard that young guys under the age of 25 pay the most in car insurance – and it's true.
Just take a look at the average car insurance costs in Ontario by age:
16-25: Approx. $5000/year
26-40: Approx. $2300/year
40-60: Approx. $1900/year
60+: Approx. $1500/year
And there are a few reasons why young people typically pay more for car insurance:
Less history with insurance companies. Drivers under the age of 30 make up a big percentage of those buying cars and car insurance for the first time. And if you don't have a history of car insurance, companies have nothing to go off of when determining your rates. So you get lumped into the high risk car insurance category based on your age and lack of experience.
Young people get into more accidents. Statistically, people under the age of 25 get into more accidents and drive more recklessly. Unfortunately, even if you're a young guy who drives super carefully, you'll be grouped in with these stats which will affect your rates.
Pro tip: If you know you're a top tier driver and never get into accidents, you can consider downloading telematics.
It's an app-based GPS system that tracks your driving habits, and will give you a car insurance premium based on how you drive, not just what demographic you fall into.
BUT, telematics works both ways: If you have bad driving habits, your car insurance premium will go up.
So think twice if you plan to drive off into the wind like Ricky Bobby.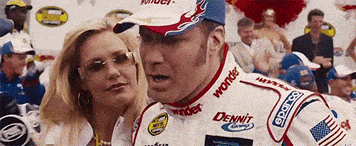 Having said that, if you simply fall into a group with high car insurance rates based on demographics (and not unsafe driving habits), there are a few things you can do to lower your premiums.
Check out our blog on lowering high auto insurance costs here.
Need a car insurance quote? Give us a call.
What's the average cost of insurance by gender?
There's a big difference when it comes to male vs. female car insurance rates in Canada.
In Ontario, car insurance costs men an average of just under $2000/year, while women pay just over $1800.
Men pay anywhere from 5% to 11% or more a year on car insurance than women in Ontario, depending on their age.
So why do men pay more for car insurance on average?
Statistically speaking, men are riskier divers: They get into more accidents than women.
And the accident stats jump even higher when it comes to young guys under the age of 35.
On top of this, men drive more, and the more you're on the road, the higher the chance of getting into an accident.
So if you're wondering why car insurance is more expensive for young men in Ontario, there's your answer.
Average car insurance costs across Ontario cities
So, how much is car insurance in Toronto, the GTA, and throughout Ontario, you ask?
Well the city that you live in does affect the premium you pay on car insurance in Ontario.
The average cost of car insurance in Toronto is way higher than in Cornwall, for example.
Regulators are trying to stop this, but insurance companies still use location as a way to determine how high your car insurance rates should be.
For example, Brampton is notorious for high rates. One of the reasons for this is that insurers pay out more in bodily injury claims in this area.
So unfortunately, even if you're an upstanding driver, the area you live in could be a mark against you in the eyes of car insurance companies.
Here's an overview of average car insurance costs throughout Ontario cities in 2022: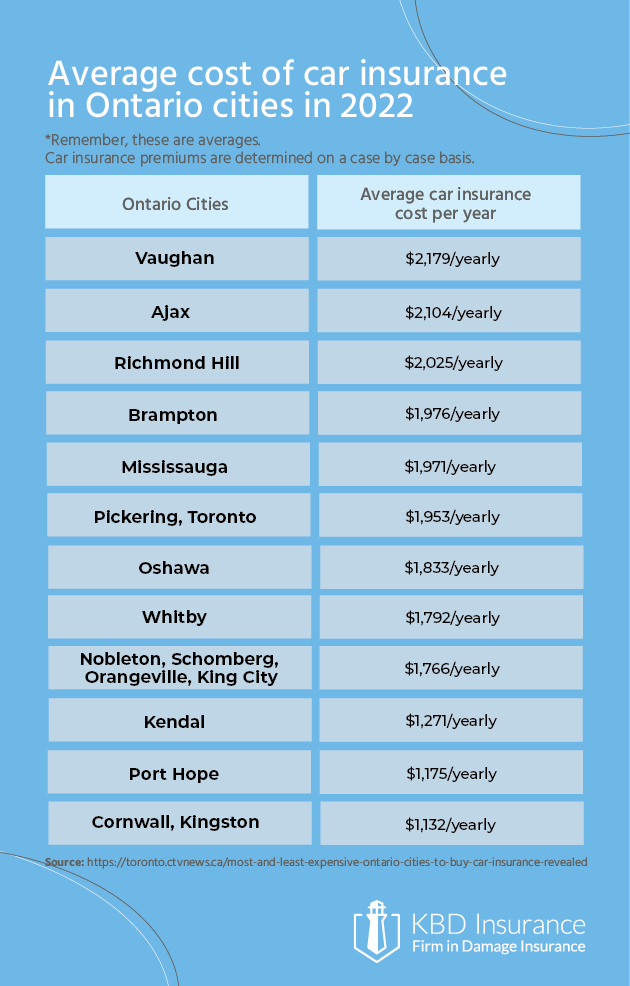 Source: CTV News
Need car insurance in Ontario? Give the KBD Ontario team a call.
How much is insurance for new drivers in Ontario?
Car insurance costs an average of $3000 to $7000 for new drivers in Ontario.
Which is pretty astronomical considering that the general provincial average is around $1400.
But the high rates make sense; new drivers come with risk factors that experienced drivers don't.
Think about it: Have you ever driven behind a student driver?
You're supposed to give them extra space because they're unpredictable: they tend to stop, start, and swerve unexpectedly.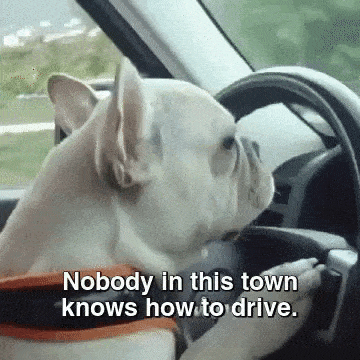 No shade to the model students out there, but since newbie drivers often aren't super confident on the road, they're more likely to make mistakes.
And even when they do get their licences, they're still considered part of a high risk group to car insurance companies.
This can be based on both their young age and/or licence grade because insurance companies have no history to base their rates off of.
But if you fall into the new driver category, don't worry.
Once you gain some experience, lose your training wheels, and build up a good history with your car insurer, your rate can decrease.
Until then, if you have an experienced driver in the family, you can be added to their policy as an occasional driver so that you can avoid the super high fees of being insured on your own vehicle.
How much is insurance for a G2 driver in Ontario?
In Ontario's graduated licence program, there are three tiers of licences:
Class G1 for student drivers. Subject to additional conditions, the G1 licence is a learner's permit that allows new drivers to practice while accompanied by a driver who has held a full G licence for at least 4 years.
Class G2 for novice drivers. As a G2 driver, you can drive alone or with a single passenger if you're under the age of 19. Subject to conditions.
Class G: Fully licensed to drive G class vehicles.
But no matter what kind of licence you have, you need car insurance to legally drive in Ontario.
G1 and G2 licensed drivers can't purchase their own car insurance policy until they get their full G Class licence.
Until then, G1 and G2 drivers should be added as secondary or occasional drivers to the policy of the person whose car they'll be driving.
This will increase the existing insurance premium, so if you do need to add someone to your policy, it's a good time to shop around for different rates.
You can do the same for new fully G licensed drivers in Ontario, since they fall into the most expensive group to insure.
As we mentioned above, car insurance for new drivers can be 25% – 50% more than the average insurance cost if they're listed as the primary driver, or they own their own vehicle.
Costs are determined on a case by case basis, but generally speaking, new drivers = higher risk = higher average car insurance rates in Ontario.
Tips to lower your auto insurance policy as a new driver:
Be listed as a occasional or secondary driver on an existing policy
Drive a beater
Keep your driving record clean
What's the cheapest car to insure in Ontario?
The cheapest cars to insure in Ontario change year over year.
According to industry reports, some of the cheapest cars to insure in Ontario 2023 include:
Chevy Cruze
Chevy Spark
Toyota Corolla
Whether the rates on these models stay low for you will depend on your personal circumstances.
But if you're headed to the dealership, or are scouring Kijiji for a used car, there are a few different things you should look for in your new whip.
These include:
Price to replace parts
Price to make repairs
Collision rates
Theft rates
Safety rating
Mileage
Etc.
Not sure about the insurance on a particular car? Give us a call and we'll get you a quote before you make your purchase.
What is the average increase in the cost of car insurance for 2023?
So your car insurance premium went up, and you wanna know why.
As with everything insurance-related, there isn't always a simple answer.
But we can tell you that insurance rates are always fluctuating, and increases can be caused by a few different things like:
Cycles in the economy
Cycles in insurance profitability year over year
Regulations
Inflation
For example, during the pandemic, fewer people were commuting, which meant that fewer cars were on the road.
This was one factor that influenced the average price of car insurance in Ontario to drop by nearly 4% in 2021.
But in 2022, things were slowly getting back to normal, and Ontario car insurance rates went up as a result.
Towards the end of 2022, some cities in Ontario even saw car insurance rate increases of approximately 6% to 14% compared to 2020.
Other factors that affect your average car insurance rate
So far we've covered average car insurance costs based on age, gender, license grade, and average rates across Ontario.
That should give you a pretty good starting point as far as understanding what you'll pay for car insurance.
But remember, car insurance rates are different for each person, and the biggest determining factors are driving and claims histories.
By keeping your driving history spick and span, you'll give yourself the best chance of a lower premium.
Check out our 3 best tips to lower your car insurance price here:
So to recap, here are the factors that influence your car insurance premium:
Driving history
Claims history
Having high-risk drivers listed on your policy
Age
Gender
Location
How often you drive
Your car
The best way to know exactly how these factors affect your rate is to get a personalized quote.
That way you won't have to play guessing games, and can get an accurate number based on your lifestyle and circumstances.
Ready for a car insurance quote? Give us a call.
Wrap-up
Average car insurance costs are just that – averages.
In a perfect world, you'd have a spotless driving and claims record, live in a nice quiet town in Ontario, and drive a cheap, reliable sedan that you only use to visit your grandma on the weekends.
Sounds nice, but unfortunately we can't all live like that.
So the next best thing to do to budget for car insurance in Ontario is to shop around for a quote.
And when you do, make sure to compare apples to apples – meaning that each policy should have the same insurance coverage (it's not just about price).
We can help with that.
Need a car insurance quote? Give us a call.
Looking for more home, car & business insurance tips? Check out the KBD blog.