On average, business insurance costs Ontario companies between $500 and $5000 annually.
So, you're finally starting that dream business in Ontario?

You might be wondering about business insurance costs in Ontario, and how you can save money on your premium.
Commercial insurance policies cost the average Canadian business between $500 and $5000 annually, which can be a big chunk of change if you're just getting on your feet.
With this in mind, is business insurance something you should skimp on?
The quick answer? As far as we're concerned, at the bare minimum commercial liability insurance is an absolute MUST for any kind of business in Canada.
Wanna know why?
Grab a snack and your Google spreadsheet, because in this blog we're breaking down everything you need to know about buying business insurance in Ontario, and you'll want to take notes.
Whether you're a newbie entrepreneur or an established business, we're walking you through what to expect when it comes to average insurance costs in Ontario for businesses, and the different kinds of coverage to get.
If you'd rather hear it directly from one of our experienced Ontario insurance brokers, the KBD team specializes in business insurance for startups, as well as established businesses.
Give our Ontario office a call at 613-437-9965, and we'll be happy to help find the best, most affordable business insurance for you.
We'll be covering the following hot topics in today's blog:
Let's start with the basics: What is commercial insurance?
Commercial insurance, also known as business insurance, is like a safety net for Ontario-based companies.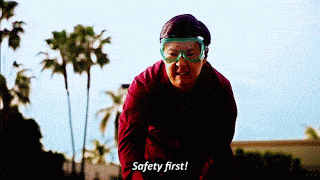 Commercial insurance provides financial coverage to businesses if there's a claim filed against them, and if business assets are damaged or stolen.

It's made up of a bundle of separate insurance products, and each client's coverage is customized to fit their business model and needs.

In order to be eligible for commercial insurance in Ontario, businesses have to be registered in the province.

It's also recommended that you incorporate your business in order to remove personal liability.

That way if you ever get sued (knock on wood!) they'll be coming after your business, and not your personal assets.
How much does business insurance cost Ontario companies?
To get right down to it: how much does business insurance cost Ontario companies?

To give you a ballpark number, business insurance costs the average Ontario company $500 to $5000 annually.
But that's just the average cost of business insurance in Ontario and Canada-wide.
Depending on the business, commercial insurance policies can cost hundreds of thousands, or even millions a year.
It's such a big range because a number of different factors determine your insurance premium.
This includes your annual revenue, claims history, location, and the industry that you're in.
But the biggest contributing factor to commercial insurance cost is annual revenue.

Basically, the bigger the company, the bigger the price tag. 💸
On top of that, risk also plays a huge part in insurance costs, and higher risk industries will pay a higher premium for coverage.
Here's a breakdown of the average business insurance costs per annual revenue so that you can get an idea of what range your business falls into, and how much to budget for:
Average insurance cost for Ontario businesses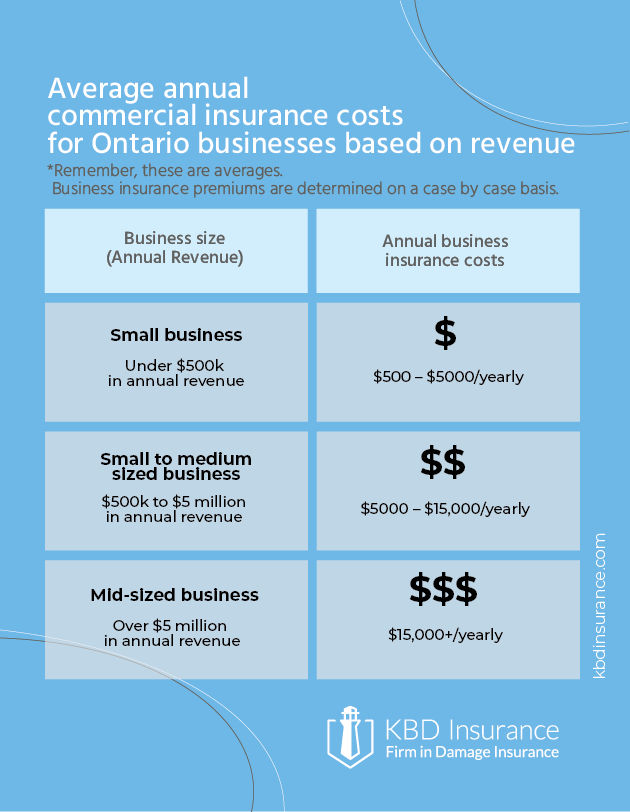 And here's a quick overview of how risk affects the insurance premiums of different kinds of businesses:
How risk affects your business' insurance premium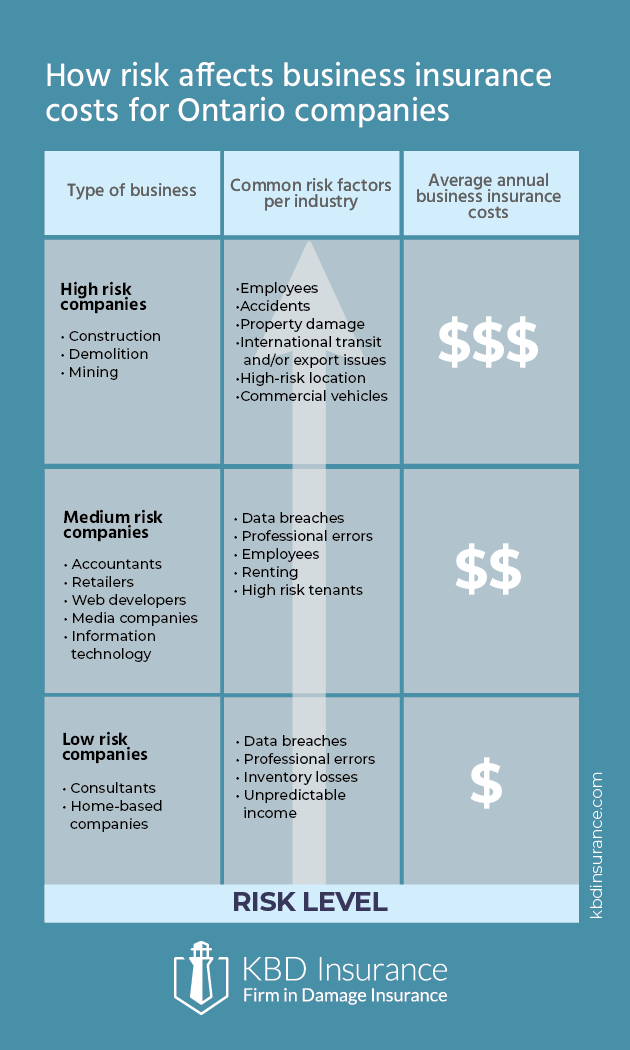 As you can see, larger companies with more assets, revenue, and exposure to risk factors tend to have higher premiums.
Having said that, no matter what kind of company you operate, there will be some level of risk that you'll need to insure for.
So to summarize, Ontario commercial insurance costs depend on how much coverage you need based on your business model and overall industry risk factors.
If you want an exact figure that's customized to your business' needs for commercial insurance coverage, give KBD's Ontario office a call at 613-437-9965 and we'll be happy to provide a quote.
How are commercial insurance rates calculated?
Looking for the formula on how to calculate insurance premiums? 🤓

In many industries, insurance companies calculate the cost of liability insurance by taking a rate per $1000 and multiplying it by the annual revenue of your business.
For the visual people out there, this would look something like this: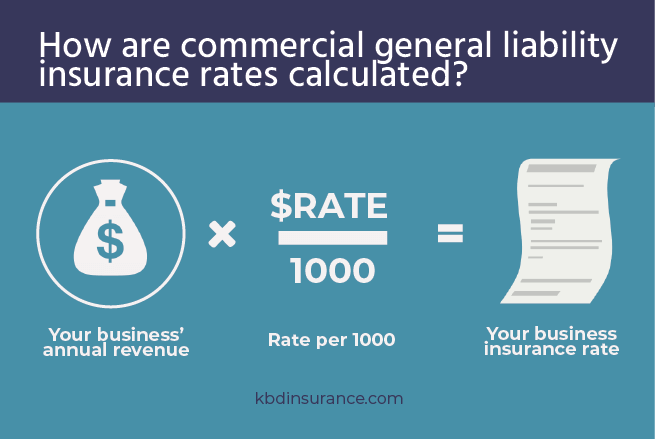 In other words, the insurance company will charge a price per $1,000 of revenue that a company has.
So, for example, a pet store will get charged about 17 cents of insurance for every $1,000 of revenue.
A restaurant can get charged about $3 of insurance for every $1,000 of revenue.
See the difference in price?
This is why there's such a huge variation in premiums.
If you're a brand new startup and you're not 100% sure of your expected revenue, you can simply give an estimate.
And there are obviously variations to this calculation depending on the nature of your business.
To get an exact figure, you can speak with an insurance company directly or a broker like us to get a quote.
What insurance is mandatory in Ontario for business?
Business insurance isn't actually enforced by law in Ontario – but it is highly recommended.
The exception to this is if you have vehicles for commercial use.
Just like personal auto insurance, commercial car insurance is required by law, and any employees that use the vehicle need to be listed as drivers.
How much is commercial car insurance in Ontario, you ask?
Commercial auto insurance costs can run you $100 to $300+ a month, depending on your business' needs.
Aside from the mandatory commercial auto insurance (Ontario regulators oblige all drivers to carry 200k in liability insurance), your business vendors may also require you to have business insurance to work with them.
So, for example, if you run a consultancy and rent an office space, the landlord will require you to carry commercial liability insurance as a part of the lease.
A broker like KBD can assess your business' circumstances, assets, and risks to determine the exact costs of commercial insurance and get you the most comprehensive coverage at the best price.
Next, we're breaking down the different types of commercial insurance so that you can go into your insurance meeting – whether it's with a broker or insurance company – knowing what to ask.
What kind of business insurance should I get in Ontario?
At the very least, businesses in Ontario should get commercial general liability insurance.
Alone, this policy will typically cost them $740 to $1500 annually, and will cover costs if they end up in a lawsuit.
KBD provides commercial general liability coverage to businesses in Ontario and Quebec in the following areas:
Property damage liability: Provides coverage if your product or an employee causes damage to another person's property.
Product liability: Protects you if your products or services cause third-party damage.
Bodily injury: Covers you if your service or product causes damage to an individual.
However, there are also additional kinds of coverage to consider when getting the right policy in place for your business.
Here are a few of the insurance protections that KBD recommends:
To recap, there are three insurance protections Ontario businesses should have on their commercial insurance policy:
Liability coverage: Protects you from being sued by a third party.
Commercial property coverage: Covers loss of physical assets (ex: computers, desks, chairs, stock, building, etc).
Business interruption: Pays for fixed costs, loss of profits and admin payroll in the event that your business is interrupted.
What are the 4 most common types of commercial insurance? Does the type of business insurance affect cost?
Depending on the kind of business you run, you might want to expand your policy's coverage, and these four types of coverage can be a good place to start.
The 4 most common types of business coverage include the following:
Commercial general liability insurance: This covers claims for personal or bodily injury, advertising liability, and third party property damage.
Business property insurance: Provides coverage for physical assets, e.g., buildings, furniture, etc.
Commercial auto insurance: Coverage for injury, liability, and replacement vehicles in the event of a car accident.
Business interruption insurance: Covers operating expenses and lost income caused by your business being unable to operate.
The amount of commercial insurance coverage you get will affect the price you pay.
Below is a list of additional coverages you can add to your policy.
Professional liability insurance: Provides coverage to professionals in the event of a claim of negligence or financial loss due to a service they provide.
Cyber insurance: Covers business liability in cases of data breach.
Directors and officers insurance: Protects employees from personal financial loss if there are allegations made against them.
Crime insurance: Protects businesses from theft related losses.
Tips for saving money on your commercial insurance policy
Not all insurance policies are the same – and not all brokers and insurance companies are equally equipped to find the best coverage for your business.
Below are a few key tips that can help business owners save their hard-earned dollar dollar bills when budgeting for Ontario business insurance costs.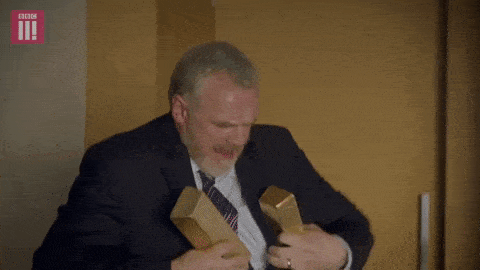 Find a broker who understands your business and industry
Working with a broker who understands the ins and outs of your industry is key. Not only will you save time getting them up to speed, but they will be familiar with the risks and assets associated with your industry and business model. Thanks to this, they'll be able to give you educated advice on the best policies for your needs.
Compare coverage plans from different insurance companies
One of the advantages of working with an insurance broker is that they can shop the commercial insurance market for you. Brokers work with a range of insurance companies, and are up to date with which companies work best with different kinds of businesses.
Don't buy too much or too little coverage
An obvious way of saving money on your insurance policy is by simply not purchasing more than you need. On the other hand, if you purchase too little, and you end up in a situation where your policy doesn't cover you, you can be liable for paying huge sums out of pocket. This is why a customized coverage plan is so important.
Don't be afraid to ask questions
When you purchase commercial insurance, you pay a fee to your broker for managing your account. You're hiring them for their expertise, so don't be afraid to ask questions about the price of your policy. Brokers can also update you if there's an opportunity to switch to a different coverage plan to save you money, as commercial premiums often fluctuate.
See if you're eligible for discounts by bundling policies
Insurance companies often offer discounts for purchasing multiple policies in a bundle. If you're working directly with an insurance company you can ask if this is a possibility. Alternatively, your broker can do the leg work and find the best rates and bundling options for you.
How do broker's fees work with commercial insurance in Ontario?
Insurance brokers like KBD are paid on a commission basis by insurance companies every time they sell a policy. The client does not pay these commissions.
Broker fees on the other hand are charged to the client at the discretion of the insurance brokerage.
For example, at KBD we only charge broker fees on commercial insurance services to cover costs related to managing more complicated accounts.
We don't charge fees on personal insurance plans like auto and home, and commercial fees will always be disclosed to you.
Don't be shy to ask your broker about the fee breakdown on your commercial insurance policy.
Conclusion
When you're buying business insurance, you're buying peace of mind.
If anything happens to your business – be it fire, flood, theft, or bigfoot – the right insurance coverage can get you back up and running (and making money), without paying out of pocket.
That's why the big guys spend millions on their insurance policies.
So, even if you're just starting out as a business owner, commercial insurance is a wise investment.
The key is to get customized insurance coverage so that you're only paying for what your business needs.
And after reading this blog, you should have a better idea of what to expect when it comes to average business insurance costs in Ontario, and the kind of coverage options to consider in Canada.
If you still have questions about commercial insurance costs in Ontario, or have an inquiry that's specific to your business, give us a call.
Need business insurance? KBD Insurance can help find the best commercial insurance for your Ontario-based business.
Get an online quote, or speak to one of our Ontario insurance brokers by calling 613-437-9965.
Get to know KBD on social media, and check us out on YouTube! We're up to some cool stuff: Instagram, TikTok, YouTube, Facebook